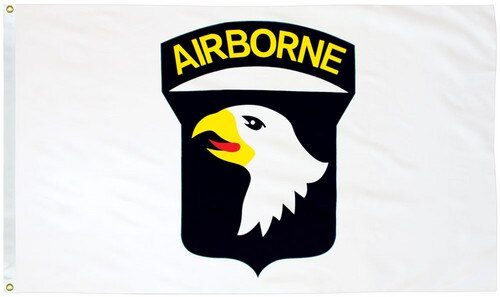 101st Airborne Flag - 3X5' Endura
Details
Our 101st Airborne flag is made of long-lasting yet easy-flying polyester material. Featuring a canvas heading and brass grommets, the bright white background affords greater noticeability of the black, yellow and red "Screaming Eagle" 101st Airborne Insignia. This flag is imported. Please see our description tab below for more information on our 101st Airborne flag.
Ideal for showing your support of the United States Army's only Air Assault Division, our 3x5' 101st Airborne flag is perfect for displaying on our in-ground residential poles or on our 6' Outrigger pole for an angled display. Simply attached your flag to your snaphooks or flag collars and your display will be complete. Displaying the "Screaming Eagle" insignia shown on our flag is the same that was originally used on the soldier's left shoulder patches. Fondly named for President Lincoln, "Old Abe" became the mascot for the 101st Airborne Division. Spreading his wings and screeching is what lead to the division becoming aptly named the "Screaming eagles".
Our 101st Airborne Division was originally activated on August 16, 1942 at Camp Claiborne, Louisiana. Distinguished for its role in Operation Overlord, the D-Day and airborne landings that took place in Normandy, France on June 6, 1944 was the division's most well-known mission during World War II. Also proudly providing Campaign participation in Vietnam, Desert Shield/Storm, Operation Iraqi Freedom and Operation Enduring Freedom, our 101st Airborne Division has been the only Air Assault Division in the United States Army since October 1974.
As well as Military products, Carrot-Top Industries also offers American-made United States flags. Our United States flags are available in our Beacon® Nylon, Patriarch® Polyester and Government-Specified styles. Available for indoor and outdoor use, our American-made United States and state flags are our most popular items. Also available are our 82nd Airborne Division flag (link to be added) and Airborne Division flag (link to be added), which encompasses both the 82nd and 101st Airborne Division insignias.