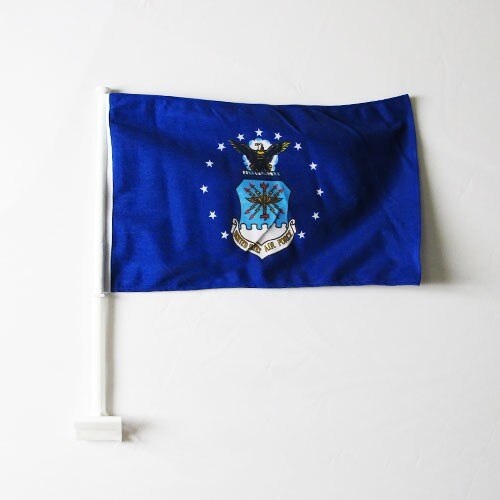 Air Force Car Window Flag
Details
Fly the Air Force flag from your car window and show your support for our military!
12" x 18" size is ideal for parades or car shows
Poly-knit material Air Force Car Window flag
Double-sided design displays logo correclty on both sides
Flag is mounted on 21" long plastic staff and flares out at 7 ¾"
Not intended for use at speeds over 25 mph
Why Buy an Air Force Car Window Flag?
An Air Force Car Window Flag is a popular way to show your support and regard for the armed forces. Car flags are as simple to use as rolling up your window on the plastic flag staff until the flag is securely in place. The 100% poly-knit fabric is recommended for vehicle speeds of 25 mph or less, making them a great idea for parade and special event use.
This Air Force Flag is conveniently pre-mounted on the plastic car window arm, with a small bracket at the bottom that fits around the car window glass.
For more information about Carrot-Top's Air Force Car Window Flag, feel free to fill out our contact us form and a representative will be in contact with you!