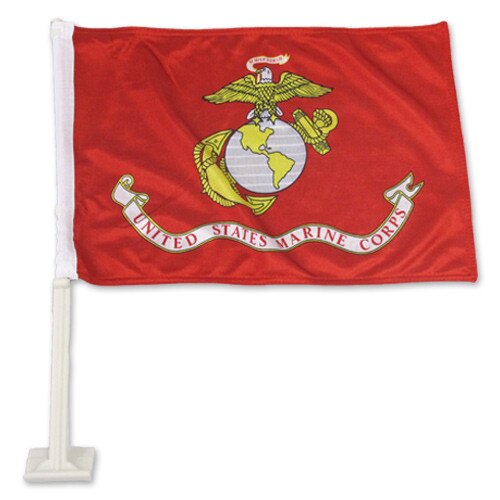 Marine Corps Car Window Flag
Details
Let the world know that you respect the United States Marine Corps with a Marines Car Window Flag.
Perfect for parades, car shows, special events
100% poly-knit material is lightweight but sturdy
Double-sided design displays logo correctly on both sides
Marine Corps flag features official globe-and-anchor emblem
12" x 18" flag is permanently affixed to a 21" plastic staff
Staff is thicker toward the base for extra rigidity
Bracket secures between car window glass and door frame
Intended for speeds 25 mph or less
Why Buy a Marines Car Window Flag?

You've seen car flags for sports teams and colleges – now you can drive down the street and show your respect for the Marine Corps with a 12" x 18" Marines Car Window Flag. It requires no hardware or tools to install – just roll up your window and trap the bottom bracket snugly between the top of the window glass and the door frame.
The Marines Corps Flag is intended for speeds of 25 mph or less, making it a great fit for parades, car shows and other special events.
Questions? Please fill out our contact us form and a representative will be in contact with you!