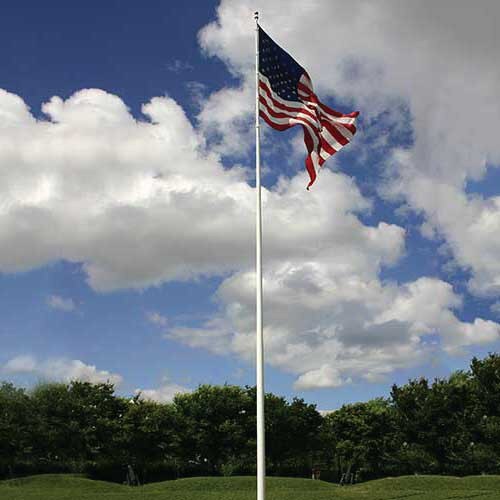 Polyester 15X25 ft Huge American Flag - Patriarch®
Details
Full Products Details of Our Polyester 15x25 American Flag:
This polyester huge American flag is 15x25 ft and is made for extreme weather conditions and high impact displays. Popular with commercial banks, car dealerships, real estate agents, schools, national cemeteries, police departments and VA establishments.
For use on 70' flagpoles when flown alone
Made using two-ply Patriarch® polyester, fade-resistant and durable
Fray-resistant fly end stitching with six rows of interlocking
Rope header and three grommets for attachment
Covered by industry's best six-month guarantee

Made in the U.S.A.

See below for more details
What is The Ideal Flagpole Height For 15x25 ft Polyester Flag?
70 ft flagpoles are recommended for 15X25 ft polyester flags. If your flagpole is 70 ft tall and you want to display two flags, we recommend using a 12' x 18' American flag with the secondary flag being 10' x 15'.
Why Buy a 15' x 25' Patriarch® Polyester American Flag?
Detailed Finish Perfect for Long-Term Outdoor Use
This U.S. flag features corner pieces on the fly end to prevent fraying and tearing. As is standard for our huge American flag, the 15' x 25' flag is fitted with nylon roped header and two galvanized thimbles at the top and bottom. They are fitted with three grommets you can use to attach the flag to your halyard. Our 15x25 American flag features appliqued stars.
Made of Durable Two-Ply Patriarch® Woven Polyester
Carrot-Top Industries' Patriarch® fabric is made of long-lasting two-ply woven polyester. The flags are heavier and far more durable than our Beacon® Nylon American flags. Inks used when dyeing the fabric resist fading. The Patriarch® Polyester American flag is covered by a six-month guarantee.
Larger Than Most American Flags
Our huge American flag creates a display that can't be ignored. These flags will stand out in any skyline. Ideal for towns, cities or villages celebrating holidays, they have also been used by businesses to attract attention, ideally for roadside businesses like car dealerships, commercial banks and real estate agents. 15x25 American flag is also used to invoke a sense of patriotism by schools, police departments, national cemeteries and county governments.
Buy a flagpole to display your flag. Complete your flag display by adding flagpole accessories and flagpole lights.
Are You Looking for a Smaller Sized Polyester American Flags?
View the full sizes in feet of our premium brand Patriarch® polyester American flags. Otherwise, check out our top-selling large American flag and 12x18 American flag.
Contact Carrot-Top Industries Today!
For more information, please fill out our Contact Us form and one of our Customer Care Representatives will be in touch with you!