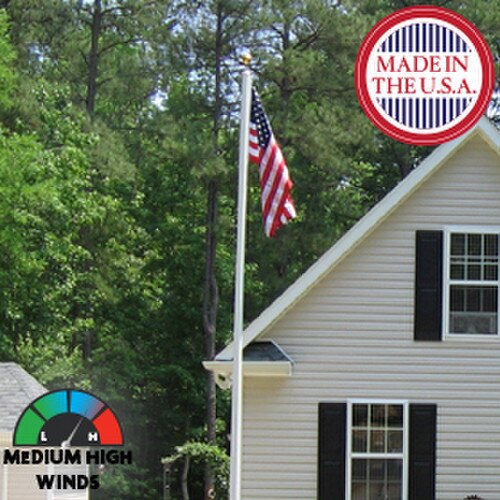 20' American Made Fiberglass Flagpole
Details
Need a handsome, low-maintenance flagpole that can withstand moderate to high winds? Carrot-Top's 20' American Made Fiberglass Flagpole is a great choice.
One-piece design with a white gelcoat finish that can withstand long-term exposure to the sun and the elements
Overall height is 22', with 2' embedded into the ground
Butt diameter is 4.5", top diameter is 2.75"
Wall thickness is 0.13"
Recommended for 3' x 5' nylon flag (sold separately – largest size recommended is a 4' x 6' nylon flag)
Flagpole shaft is backed by a 20-year warranty
Rated for 210 mph winds without a flag, or 170 mph winds while flying a 3' x 5' flag

Proudly Made in U.S.A.

Do Not store flagpole in corrugated shipping materials; see more images or description below for details
Why buy a 20' American Made Fiberglass Flagpole?
Fiberglass flagpoles have long been a favorite for a number of reasons. Fiberglass is non-conductive and should never be subject to a lightning strike, making it a great choice for parks, playgrounds and other public areas. Fiberglass will not corrode like aluminum and will stay looking great for years, especially with a glossy gelcoat finish.
Every 20' American Made Fiberglass Flagpole purchase includes the following components:
Single revolving truck
Two stainless steel snaphooks for mounting flag
6.5" PVC cleat
10" x 10" square split flash collar
PVC ground sleeve
Please call for replacement parts that are not available online.
PLEASE NOTE: All Architectural Flagpoles Shipped Via Motor Freight
Standard delivery time of 1-2 weeks within Continental United States. Please fill out our contact us form and one of our customer care representatives will reach out to you to discuss shipping costs to Hawaii or Alaska.
For other color options, call and speak to a Carrot-Top representative.
Be sure to remove your flagpole from the corrugated packaging. Do not store your flagpole while it is in the packaging as this will permanently stain your flagpole if it becomes wet. Check out these guides more details on Delivery and Installation or Repair and Maintenance.