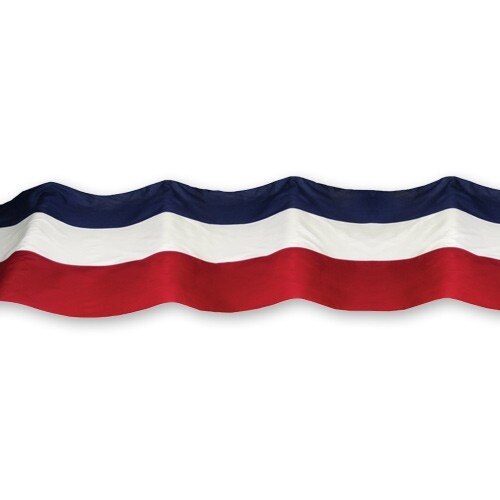 3-Stripe Nylon Bunting - 36" Width
Details
Our Nylon Bunting is one of our most popular, red, white and blue decorations.
This patriotic bunting is tailored with superior nylon
Nylon bunting is more adapted for long term outdoor use, as it does not bleed when wet
This patriotic bunting features sewn, double-stitched stripes
To fit your display needs available in a pre-cut 36" x 60 yard bolt
Carrot Top's nylon bunting is the best choice for your patriotic decorating needs. Our nylon bunting will fill your event with the Spirit of America. This bunting is built for both indoor and outdoor use and features a woven nylon material that is durable and long lasting. The 3 stripe nylon bunting features red and blue stripes and it dries quickly when wet. Add a bit of patriotic pizazz to your Fourth of July, Memorial Day or Labor Day tradition. Honor America by celebrating her colors. The 3 stripe nylon bunting measures 36" wide in a 60 yard pre-cut bolt.
Carrot-Top Industries offers an assortment of patriotic décor and flags. Visit our collection of American flags, including our exclusive Beacon® nylon American flag and our Patriarch® polyester American flag. Carrot-Top also features a range of patriotic street banners to decorate your town or city's streets. For more information, please fill out our Contact Us form and one of our Customer Care Representatives will be in touch with you!