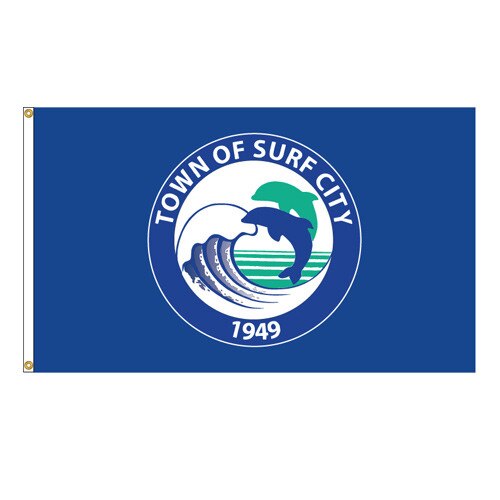 3' X 5' Surf City, Nc Flag
Details
Surf City, NC flags visually reflect the city's coastal environment and the town's motto: "Big enough to be competitive, small enough to be happy".
These flags feature:
Finely crafted strong , yet lightweight woven Nylon
Digitally imprinted single reverse design with bold and vibrant colors
3' x 5' size and solid brass grommets , easily attach to and remove from most flagpoles
Tailored for extended Outdoor Use
Proudly and patriotically made in the U. S. A.
Town of Surf City, NC Flags are made with the finest materials and features superior craftsmanship. These 3'x 5' Nylon flags showcase vibrant, robust colors and intricate stitching. Our Surf City flags are built to withstand outdoor elements yet are so lightweight they wave beautifully in the slightest breeze. Nylon city flags feature brass grommets which allow for easy attachment to and removal from flagpoles. This town's banner echoes the city's coastal location and many residents' love of nature. Surf City is a town located in Pender and Onslow counties in the state of North Carolina. Surf City often has been referred to as the "Mayberry by the Sea." For more information about the history and design of the Surf City flags contact the Town of Surf City.
Carrot-Top is proud to supply a wide variety of patriotic, special event and custom-made products. Shop our extensive collection of flags which includes American flags, in a variety of sizes and fabrics. We also provide sports flags such as NFL team flags, Major League Baseball flags and NCAA college sports flags. Get your ECU flag, UNC-Wilmington flag, UNC flag and other great college team flags. For more information about the products and services Carrot-Top provides please fill out our contact us form and one of our Customer Care Representatives will be in touch with you!