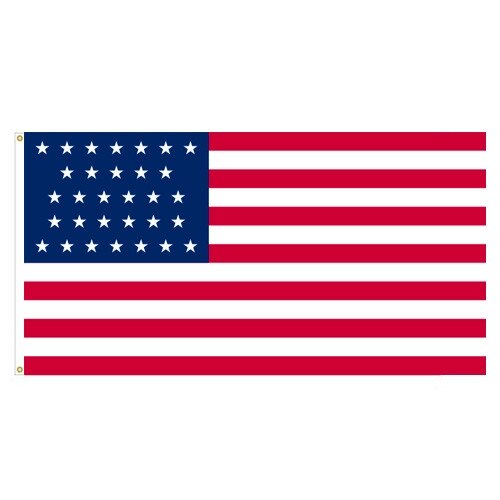 Details
Know someone who's interested in historic flags? Have a look at Carrot-Top's 31-Star American Flag!
3' x 5' historic flag for collectors
31-star design marked addition of California to the Union
Heavyweight 200 denier nylon
Sewn stripes with applique stars and brass grommets
Single reverse finishing
Four rows of stitching at fly end
Not intended for windy environments

Proudly Made in U.S.A.
Why Buy a 31-Star American Flag?
On September 9, 1850, California was admitted to the Union; on July 4 of the following year, the 31-star American Flag became the official flag of the United States. It was to last for seven years; presidents Millard Fillmore and Franklin Pierce served under this historic flag.
This 19th century flag is a must for any collection of historical American flags. Carrot-Top's accurate reproduction of the 31-star American Flag is fashioned from 200 denier nylon with sewn stripes and applique stars. Its four rows of stitching at the fly end help resist fraying, and it's easy to display with brass grommets at the head end.
Questions? Please fill out our contact us form and one of our Customer Care Representatives will be in touch with you!