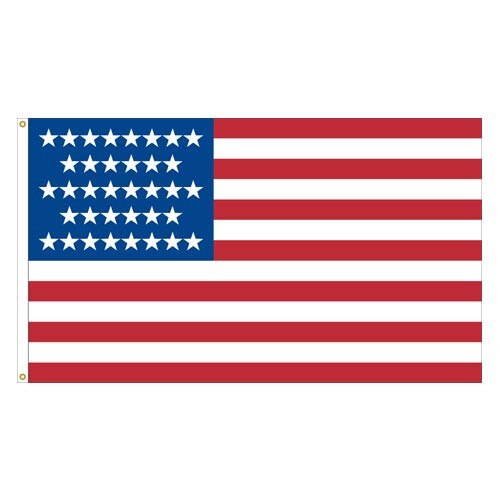 Details
Our 3x5' Nylon 36 Star flag is ideal for the celebration of Nevada joining the Union.
Quick-drying, sturdy nylon will withstand most weather environments
Canvas heading and brass grommets allow for secure attachment to flagpoles
Vibrant red, white and blue colors
Made in America
The 36 Star flag is constructed from lightweight yet durable 200 denier nylon and features a canvas heading and brass grommets to provide a secure display for yourself and those who encounter your flag presentation.
A result of Nevada joining our Union on October 31st, 1864, the 36 Star United States flag became the official flag of our great nation on July 4th, 1865. Lasting for 2 years, the only President to serve under this flag design was Andrew Johnson (1865-1869).
Also available is our complete indoor Nevada state flag set, which are ideal for ceremonies and state government functions. Our outdoor Nevada state flags display nicely with our outdoor United States flags with both being available in our exclusive Beacon® Nylon and Patriarch® Polyester materials. For parade use, our handheld Nevada State flags make a great addition for children or as a giveaway item. Our 12x18" Nevada State mounted flags are an honorable addition to a cemetery display and can also be used in classrooms as well as projects and presentations. For more information, please fill out our contact us form and one of our Customer Care Representatives will be in touch with you!