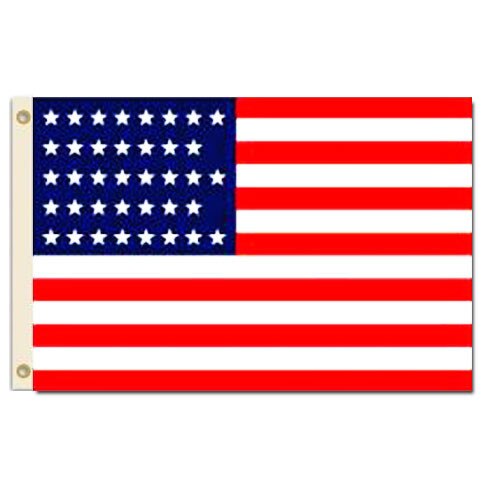 Details
Our 3'x 5' Nylon 38 Star flags are crafted with strong, premium nylon that seemingly sparkles in the sun.
These flags:
Feature Appliqued Stars
Measure 3'x 5' and conveniently fit most flagpoles
Are fitted with a sturdy and durable canvas header and brass grommets
Create great eye-catching displays in any location
Are made with lightweight material that dries quickly.
The 38 Star flag became the Official flag of the United States on July 4th, 1858. The star was added to honor and recognize the admission of Minnesota as the 38th state in the Union on May 11, 1858. James Madison is the only President to serve under this flag which lasted for one year. Whether at your home, office, school, building or church, these flags look amazing with bold colors and reinforced seams. Our nylon flags are built for extended outdoor use in moderate climates with milder winds.
Carrot-Top is committed to providing the highest qualities products which include custom items, military products, flags and more. Our American flags are fashioned in several sizes and fabrics which include our Beacon® Nylon American flag and our Patriarch Polyester American flag. Shop our Historic U.S. flags and our Historic International Flags for other great eye-catching displays. Be sure to include your favorite state and city flags with one or more of our US State and City flags. Carrot-Top also features great tokens and keepsakes which are affordably priced to share with others. For more details about any Carrot-Top item or for assistance placing an order, please fill out our contact us form and one of our Customer Care Representatives will be in touch with you!