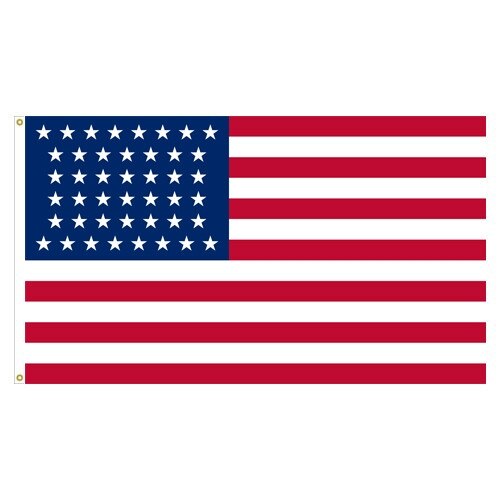 Details
This 3x5' Nylon 44 Star flag features the addition of a single star in recognition of Wyoming being granted admission to the Union on July 10th, 1890.
Appliqued stars and sewn stripes offer a traditional look
Bright and vibrant colors for an eye-catching display
Built to last with a strong canvas heading and sturdy brass grommets
Made in America
Our 3x5' Nylon 44 Star flag is lightweight yet durable. Weighing less than 2lbs. this flag will take little effort for installation and removal and will place little to no stress on your flagpole halyard. Ideal for areas with little to moderate winds, this 44 Star United States flag is sure to be a conversation piece as well as a beautiful display.
Honoring the admission of Wyoming into the Union on July 10, 1890, the 44 Star American flag became the official flag on July 4th, 1891 and lasted for 5 years. Only 2 Presidents, Benjamin Harrison (1889-1893) and Grover Cleveland (1893-1897), served under this flag.
Along with our Historical United States flags, Carrot-Top Industries also offers a range flags and products for the great state of Wisconsin. Our outdoor Wyoming state flags are available in our Beacon® Nylon and Patriarch® Polyester materials. For a more decorative display, our indoor state flags and indoor state flag sets offer the added option of having gold fringe for that finishing touch. The Wisconsin state flags make for a great pairing with our outdoor United States flags, also available in our exclusive Beacon® Nylon and Patriarch® Polyester materials. For more information, please fill out our contact us form and one of our Customer Care Representatives will be in touch with you!