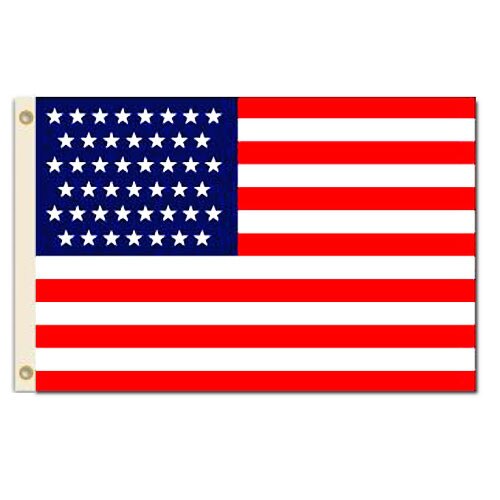 Details
The 3'x5' Nylon 45 Star flag became the Official flag of the United States on July 4th, 1896. The additional star honored and recognized the admission of Utah as the 45th state on January 4th, 1896.
Lightweight material that dries quickly and shines in the sunlight
Vibrant colors including a bold blue canton, crisp white stars and beautiful red and white stripes
Measures 3'x 5' to conveniently fit most flagpoles
Made in the U.S. A.
Our 3'x 5'Nylon 45 Star flags feature Appliqued stars and sewn stripes for a traditional look. These flags weigh less than 2 lbs. and are finished with a strong canvas header and brass grommets for quick and easy installation and removal. Our nylon flags are ideal for climates with moderate winds.
The 45 Star American flag honors the admission of Utah to the Union on January 4th, 1890 and lasted for five years. Three Presidents served under this flag: Grover Cleveland (1893- 1897) , William McKinley (1897- 1901) and Theodore Roosevelt( 1901-1909).
Carrot-Top features a large collection of Historic U.S. flags, Historic International Flags and American flags. Shop our full range of Utah flags which includes US State and City flags. Our American flags are fashioned in several sizes and fabrics which include or exclusive Beacon® Nylon American flag and Patriarch® Polyester American flag. Browse our Historic lapel pins, Military lapel pins and state flag lapel pins for affordable keepsakes everyone will treasure. For more assistance with any Carrot-Top item please fill out our contact us form and one of our Customer Care Representatives will be in touch with you!