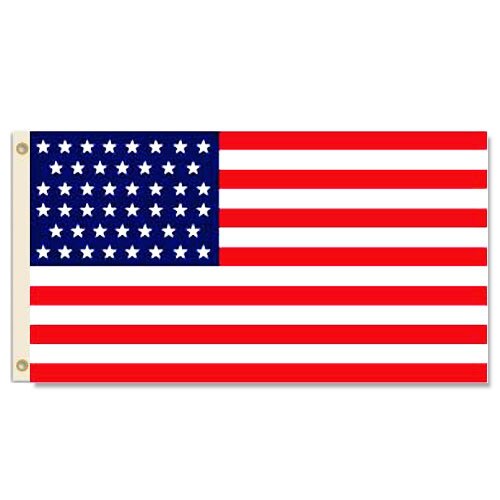 Details
Our 46 Star flags became the Official flag of the United States on July 4th, 1908 and honored that admission of Oklahoma to the Union on November 16, 1907.
Quick-drying nylon that shines brightly in the sun
Strong canvas header with brass grommets
A convenient 3'x5' size that fits most flagpoles
Made in the U.S.A.
The 46 Star Flag is fashioned with superior, 200 denier nylon that is both lightweight and dries quickly. Carrot-Top's nylon flags are fitted with a strong and sturdy canvas header and brass grommets. These flags create beautiful displays at your home, office, building, school or church.
The 46 Star American flag represented the nation for four years and is the flag under which Presidents Theodore Roosevelt (1901-1090) and William H. Taft (1909-1913) served.
Complete your flag display with any of our indoor Oklahoma flags which make great ceremonial and parade flags. Our Outdoor Oklahoma flags pair perfectly with our Outdoor American flags which include our Beacon® Nylon American flag and Patriarch Polyester state flags. Carrot-Top also supplies hand held American flags and mini Oklahoma State flags which make great token of appreciation. For more information, please fill out our contact us form and one of our Customer Care Representatives will be in touch with you!