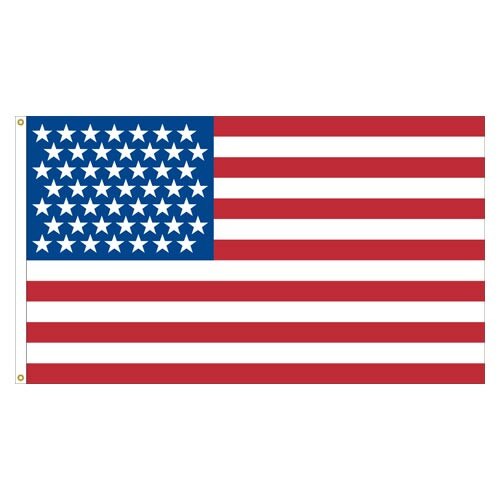 Details
Our 3x5' Nylon 49 Star flag includes the star added in recognition of Alaska joining our great Union on January 3rd, 1959.
Reinforced canvas heading and brass grommets
Sewn Stripes and appliqued stars
Strong yet lightweight nylon offers quick-drying and continuous display
Made in America
The 3x5' Nylon 49 Star flag is proudly made in America and is our most "recent historical" United States flag. Complete with a durable canvas heading and solid brass grommets, this nylon flag will fly beautifully for special occasions and ceremonies or for everyday use to honor the state known as "The Last Frontier".
Adding the 49th star to our United States flag honors the welcoming of Alaska into our Union. The 49 Star American flag design is the last design that was created before the 50 Star design (1960) we currently honor and respect. Alaska was granted Statehood on January 3rd, 1959 with the change of design becoming official on July 4th, 1959. This 49 Star design lasted only one year and also marks President Dwight D. Eisenhower (1953-1961) as the only Commander in Chief to serve under this flag edition.
In conjunction with the United States Historical flag versions, Alaska State flags and lapel pins are also available through Carrot-Top Industries. The outdoor Alaska state flags are available in both our exclusive and durable nylon and polyester materials. Indoor flags and flag sets include a beautiful gold fringe to make any ceremonial or event presentation professional and attractive. Also ideal for parades or for children as a giveaway item are our handheld Alaska state flags. Always available and ready-to-ship are our Beacon® Nylon and Patriarch® Polyesteroutdoor United States flags. For more information, please fill out our contact us form and one of our Customer Care Representatives will be in touch with you!