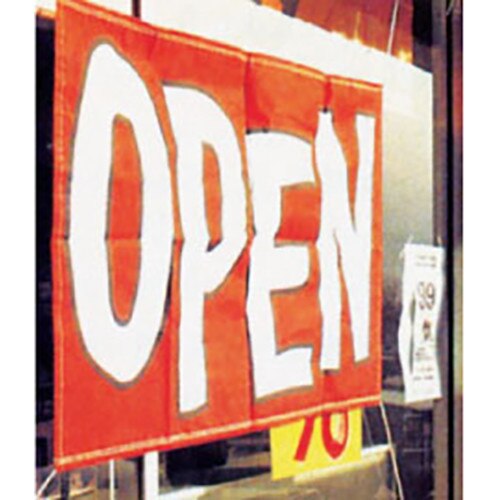 Details
The 3'x5' Open Banner is a great way to catch the eye of people passing by. These banners are both informative and act as marketing for your business. Stand out from the crowd with one of our open banners.
The open banners are made using heavy-duty plastic (polyethylene) material for indoor and outdoor use. For more about these open banners see the description tab below.
LIMITED QUANTITY AVAILABLE
The 3'x5' Open banners are designed and built to draw as many people as possible to your business increasing exposure and converting more people in to being potential customers. These banners feature a red background with the word "OPEN" centered on it and printed in white lettering. These banners are designed and known to last up to 6 months in a continuous display. The polyethylene or plastic material is perfect for use in both indoor and outdoor settings. The plastic material is water resistant, ideal for wet outdoor conditions.
Set up and assembly with our plastic open banner is simple. The banners come with two individual ropes attached to the top and bottom of banner. The ropes run the entire width of the banner and extend five feet outwards from each corner. These ropes come sewn on to your banner when purchased allowing the banner to be hung on any flat surface, over a door frame or wherever you desire it to be. The rope is made of heavy duty nylon and is weather-proof.
Carrot-Top Industries proudly offers many varieties of Open banners see our whole collection of advertising message banners to find a banner with a design that fits your needs. Our advertising flags are also a great way to attract attention to your business or event. These flags include blade flags, message flags and many more. You can also have a fully personalized custom product to increase exposure. See our custom flags, custom banners and custom street banners for perfect attention grabbing custom items. All of our products are of the highest quality and Carrot-Top Industries has been recognized as one of the premium supplier of American flags, Patriotic décor, flagpoles and flagpole accessories of all kinds. See our collection of event supplies as well. For more about our products and order process please fill out our contact us form and one of our Customer Care Representatives will be in touch with you!