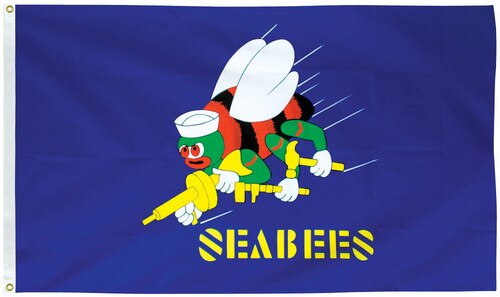 Details
The Navy Seabee flag is a representative symbol of the Seabees, originally known as the Naval Construction Battalions. In March of 1942 all Construction Battalion personnel of the Navy were named Seabees by the Navy Department.
The Seabees flag features the word "SEABEES" printed below the Seabee insignia with the iconic Fighting bee caricature. The fighting bee was conceptualized and designed by Frank Lafrate a civilian file clerk at the Naval Air Base in Quonset Point in 1942. For more information about our Navy Seabee flag read the description tab below.
The Navy Seabee flag proudly features the official insignia of the Seabee's on a blue background. The fighting bee of the Seabees was selected to represent the Naval Construction Battalion because of its industrious work ethic. The Seabees were not only skilled at construction they were also trained to defend themselves when attacked. The bee when undisturbed tends to its own business but when threatened it will sting. Lafrate also gave the fighting bee a sailor's cap, tools for each hand to show the Seabee's construction abilities and a tommy gun to represent the battalion's ability to attack when necessary.
Our Navy Seabee flags measure 3'x5' and are made of Endura polyester, but are best for short term displays. The flag is finished with a header and grommets that allows the flag to be attached to an outdoor flagpole with flagpole hooks. For more information about the Seabee flag or any of our products please fill out our contact us form and one of our Customer Care Representatives will be in touch with you!
All information about the Navy Seabee Flag was sourced from the website for the Seabee museum and memorial park.