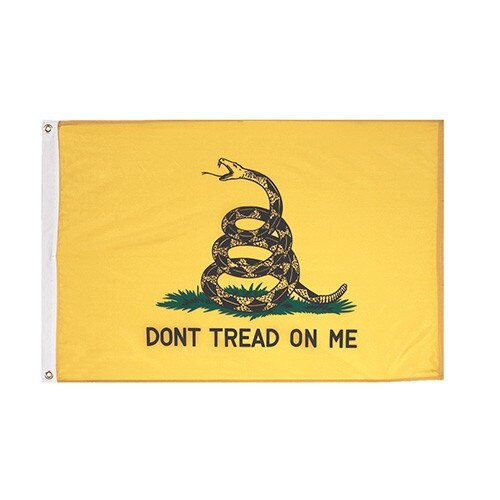 Don'T Tread On Me Flag (Gadsden Flag) - 5' X 8' Nylon
Details
Recognize the nation's history and everything that the Gadsden Flag stands for with our 5' x 8' Nylon Gadsden Flag!
5' x 8' flag is digitally printed on UV-resistant 200 denier nylon
Two rows of stitching at top and bottom, with four rows at fly end to resist fraying
Nylon fabric is weatherproof for outdoor use, flies in a slight breeze
Digitally printed single-reverse design shows properly on one side, reverse on other
Canvas header and brass grommets for mounting

Proudly Made in U.S.A.
Why Buy a 5' x 8' Nylon Gadsden Flag?
Originally used as a flag for the Continental Marines during Revolutionary times, the historical Gadsden flag was designed by Colonel Christopher Gadsden of South Carolina. Often called the "Don't Tread On Me" flag, it was an enduring symbol that was revised into several different versions over the years.
Carrot-Top's 5' x 8' Nylon Gadsden Flag is top-quality nylon that's suitable for outdoor display in light to moderate winds. It's UV resistant for long exposure to the sun, and its four rows of stitching at the fly end means it will resist fraying.
Questions? Please fill out our contact us form and one of our Customer Care Professionals will be be in touch with you!