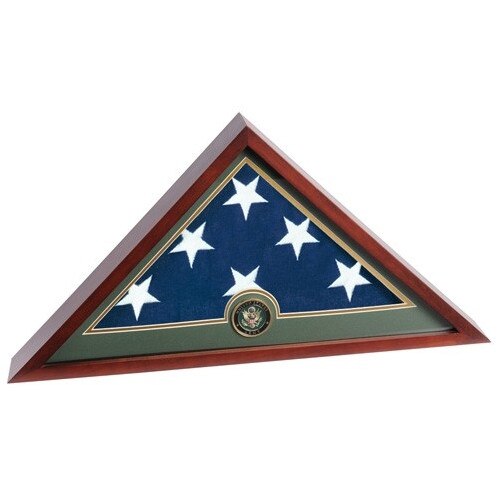 5' X 9.5' Army Medallion Mahogany Flag Case
Details
Our 5' x 9 ½' Flag Case with Army Medallion display your flag and honor those who have served our country with style and distinction. These hardwood cases feature the official seal of the U.S. Army
Preserve the respect and honor of those that sacrificed for our country
Constructed with rich, mahogany-colored hardwood and thick glass
Flag holder measures 26" x 13" x 3.5"
Holds government-specified 5' x 9 ½' flag
Cases are lined with a green matte finish outlined in Gold
Felt-lined, scratch-resistant
Back panel opens easily to add or remove the flag
Assembled in the USA
Why buy 5' x 9.5' Army Medallion Mahogany Flag Case?
Our Shadow Box flag case with Army medallion is crafted and constructed with beautiful mahogany-colored hardwood flag holders that will look great in any room, display case or mantle. Carrot-Top's flags case showcases unparalleled craftsmanship in both fit and finish. These flag cases feature a green matte finish outlined in gold with an Army seal medallion. Our shadow boxes have an easy-to-open back panel that is lined with felt and has a scratch-resistant bottom. The outside of the case measures 26" x 13" x 3.5" and is designed to hold government-specified 5'x 9.6' US Government Specified flags. Honor the service of your loved one, or just show off your patriotism with these beautiful flag frames. U.S. Flags are sold separately.
Carrot-Top offers a wide selection of flags and flag cases, which include our 5' x 9.5' Presidential Flag case and Presidential Flag Case Pedestal, Bronze Army Grave Marker and our 12" x 18" Cotton US Mounted flag.