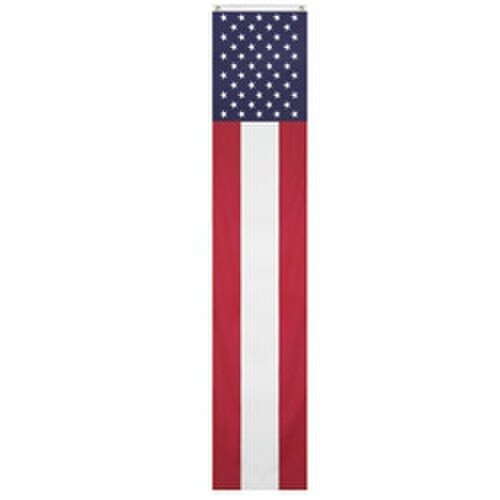 Details
The 50 Star Pulldown is one of Carrot Top's most popular, patriotic decorative items. Available in your choice of fabrics and sizes, this US flag pulldown displays 50 white stars on a blue field above vertical stripes of red and white. The stars represent each of the 50 U.S. states. Welcome guests to your home, office, church or building with a slice of stars and stripes patriotism. The 50 Star Pulldown will complete your patriotic look or use it alone to create a classic display. For more information about our 50 Star Pulldown see the description tab below.
Carrot Top's 50 Star Pulldown will make your patriotic events pop. This fashionable representation of the stars and stripes is sure to make an impression on everyone's patriotic spirit. The 50 Star Pulldown features a strong canvas header and two rust resistant brass grommets. This Pulldown is available in two sizes and two fabrics. The 50 star cotton pulldown is more suited for indoor use and is available in sizes 20"x8' and 20"x12'. Use this cotton pulldown to welcome guests to your home, office or church with an All –American touch. The 50 star cotton pulldown may bleed when wet. Carrot Top also features a 50 star nylon pulldown designed for either outdoor or indoor display.
Carrot-Top offers a wide range of Patriotic items like our fans and bunting, lapel pins, American flags, patriotic street banners and flags of all the military departments. We proudly offer POW/MIA flags to remember our brave soldiers, proceeds of which help families of missing soldiers. Also see our commercial and residential flagpoles. For more information, please fill out our Contact Us form and one of our Customer Care Representatives will be in touch with you!