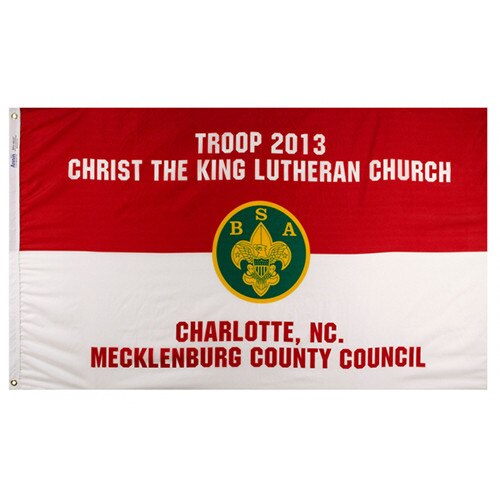 Scouts BSA Troop Flag - 52" X 66" Nylon
Details
Full Product Details of our 52"x66" Nylon Scouts BSA Troop Flag:
Showcase your troop's one-of-a-kind identity and strengthen your sense of community with our exclusive custom BSA troop flags. These personalized flags are officially licensed and stand as a lasting emblem of unity for your Boy Scout troop. With a robust canvas heading, rust-resistant brass grommets, and vibrant, captivating colors, trust our custom BSA troop flags to inspire and motivate your Scouts during future outings and beyond. Order online today to get started on your custom order. Those looking for a slightly smaller size can order our 3'x5' custom BSA flag.
52"x66" nylon red/white flag with green/gold Boy Scout logo

Can be customized to include the Scouts BSA troop/unit number and the town/city and state

Requires 6–8 weeks for production and delivery

Nonreturnable due to the customized nature of the product

Made in the U.S.A.




All designs follow the image above and will print with uppercase letters. We consider your design final after you confirm the text details in the pop-up box. Please be aware that BSA regulations prohibit using B or G at the end of a troop number.
Why Buy the 52"x66" Nylon Custom Scouts BSA Troop Flag from Carrot-Top Industries?
Show your troop's pride with a custom Scouts BSA troop flag made from sturdy nylon. This unique flag boasts white letters on a vibrant red upper section, complemented by red letters on a pristine white lower section. The official green and gold Boy Scout logo sits in the flag's center. Additionally, each flag includes a robust canvas header and durable brass grommets. You can make it your own by personalizing it with your troop/unit number, town/city, and state (please note that lettering is required). If you're part of a veteran unit, you can add unit emblems at no extra charge. For detailed flag lettering guidelines, consult the Boy Scouts Of America Guide to Awards and Insignia. Please note these flags are proudly made in the U.S.A.
PLEASE ALLOW 6–8 WEEKS AFTER FINAL DESIGN APPROVAL FOR PRODUCTION AND DELIVERY OF THIS CUSTOM PRODUCT. SHIPPED DIRECT FROM SUPPLIER.
Boy Scouts of America products are custom products and cannot be returned. Please see FAQ for more information.
FAQ - 52"x66" Custom Boy Scouts Flags
Please fill out our contact us form for answers to any additional questions.
1. What material is your custom BSA flag made from, and is it suitable for outdoor use?
The custom Scouts BSA flags are made from the same 200-denier nylon used on all our nylon U.S.A., state, and military flags. It is lightweight enough to fly easily in any breeze, yet durable enough to last through long-term outdoor use.
2. How should I care for my flag?
Inspect regularly for fraying and wear and unhoist your flag during severe storms and other inclement weather. If your flag becomes dirty, hand wash it with mild detergent and let it air dry before rehanging. If the fly end starts to fray, you can hem it or take it to a tailor to do so.
3. What custom BSA flag should I use for parades?
We recommend using a custom indoor BSA flag for parades and official ceremonies. These flags come lined with an elegant gold fringe and feature a pole hem for effortlessly hanging on your indoor flagpole.
Official Partners of the BSA and Beyond
If you purchase the 52"x66" nylon custom Scouts BSA troop flag, you may also be interested in our flagpoles and accessories, American flags, military flags, custom flags and flags for every occasion. We offer fast shipping on all in-stock products. Have a question or need help ordering something? Our Flag Pros are waiting to assist you. Please fill out our contact us form, and one of our Flag Pros will be happy to get in touch with you!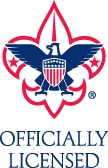 Boy Scouts of America®, BSA®, Cub Scouts®, and Venturing®, are either registered trademarks or trademarks of the Boy Scouts of America in the United States and/or other countries. Manufactured under license from the Boy Scouts of America. All rights reserved.