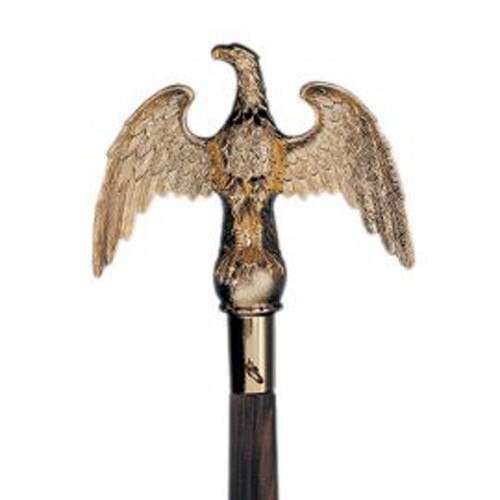 Eagle Flag Topper - 7" Aluminum
Details
Our 7" Eagle flag toppers are made of solid aluminum and can be used in long term indoor flag displays. These flag pole toppers come with a sleek gold finish and can be paired easily with a variety of flag poles and indoor flag sets.
The Eagle flag toppers are perfect for indoor flags with a gold fringe. For more details see the description tab below. To order an eagle flag topper, enter the number of units desired and click on the "Add to cart" button.
The Indoor eagle flag toppers are ideal for a professional and sleek flag display. These flag pole ornaments are a great way to finish off any flag display. The gold finished ornament is a perfect addition to cover the top of the flag pole and to match the gold fringe fitted to most indoor flags.
The indoor eagle flag topper is made of solid aluminum and features a gold finish. Aluminum does not rust and is ideal for use in long term displays. These flag pole ornaments are known to last for months in continuous displays owing to their sturdy design. The eagle topper measures 8 ¾" with the ferrule included and the eagle's wingspan measures 7". The ferrule is used with flag poles that do not have a female part to accommodate the flag pole topper, it measures 3" in height.
Browse through our collection of indoor and parade flag poles, our vast collection of Indoor flag pole accessories and outdoor accessories including our various indoor flagpole ornaments, flag pole floor stands and more. Shop our collection of American flags, state flags and military products to find a flag to match your needs. We also supply a wide range of custom products. For more information please fill out our contact us form and one of our Customer Care Representatives will be in touch with you!