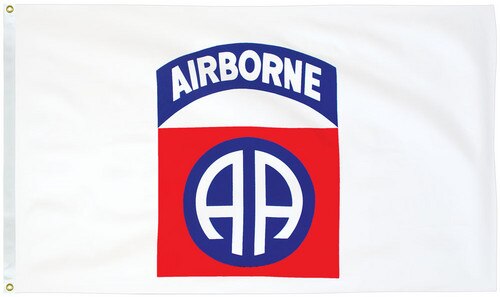 82Nd Airborne Flag - 3X5' Endura
Details
Our 82nd Airborne flag is made of strong yet easy-flying polyester which will afford you a beautiful, long-lasting display. Complete with a canvas heading and brass grommets, our outdoor flag will attach easily to your halyard and will be seen right away. Complete with the crisp, white background and bright red and blue insignia, showing your honor and support will be a snap. This flag is imported. To order this flag, please enter your desired quantity and click "ADD TO CART". For more information on this 82nd Airborne flag, please see our description tab below.
Our 3x5' Polyester 82nd Airborne Flag is ideal for any parent, spouse or veteran who would like to show their support and honor of any family member or friend who is or has been a member of the 82nd Airborne Division.
Formally activated on August 25, 1917 at Camp Gordon in Georgia, the 82nd Airborne Division specializes in parachute assault operations. The 82nd Airborne Division found its permanent home at Fort Bragg, North Carolina on November 15, 1948. As the original members of the division hailed from all 48 states, the nickname of "All American" was gained. This nickname is where the "AA" design originated from that is shown on the current shoulder patch and insignia. Serving in both World Wars, Cold War and the Global War on Terrorism, the 82nd Airborne division also provided Search-and-Rescue Missions and Security Operations to New Orleans, Louisiana during 2005's Hurricane Katrina.
In addition to the 82nd Airborne flag, Carrot-Top Industries also offers a wide variety of Military, Memorial & Patriotic items. Ranging from branch-specific items to POW/MIA and Veteran items, we are sure to have the items you're looking for. Always made in America, in-stock and available in many sizes are our outdoor United States flags. Our Beacon® Nylon and Patriarch® Polyester are our most popular outdoor flags with cotton styles also available.