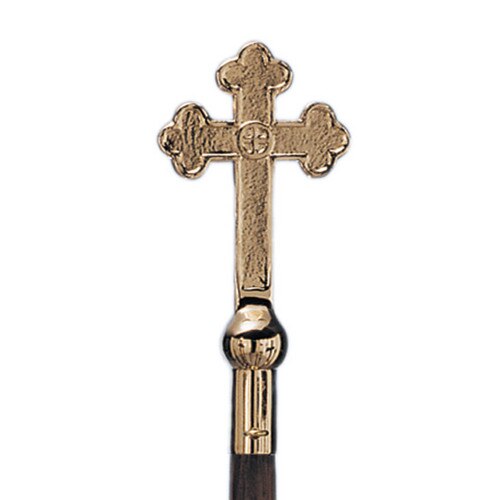 Brass Cross Flag Pole Topper - Indoor
Details
The brass cross flag pole topper is a great way to cap off your indoor flag display. These cross toppers are perfect for use with our Christian flags and our other religious flags for indoor displays. The ornament resembles a Botonee cross but extends downwards toward the ferrule which gives it a conventional church cross look.
The brass cross flag topper can fit all of our indoor flag poles with ease. For more details about this product see the description tab below. To order a brass cross enter the desired number of units and click on the "Add to cart" button.
The brass cross flag pole topper measures 9 ¼" in length and is proudly made in U.S.A. They are ideal for long term use in indoor settings and can be coupled with any of our indoor flag poles. The cross topper features a church cross with a rough finish running through the center of the cross figure. The cross features rounded (trefoil) edges on the sides and top resembling a Botonee cross. The ornament comes with an attached ferrule and screw eye to fasten it to the indoor pole.
Browse our entire collection of indoor flagpole ornaments and indoor flag pole accessories to find the ideal parts to complete your flag display. Carrot-Top Industries also supplies outdoor flag poles for all weather displays. Our collection of outdoor flagpole accessories houses everything you need for a functional and durable outdoor flag display. See our range of American flags, custom flags and military products to find items that suit your needs. For more information please fill out our contact us form and one of our Customer Care Representatives will be in touch with you!