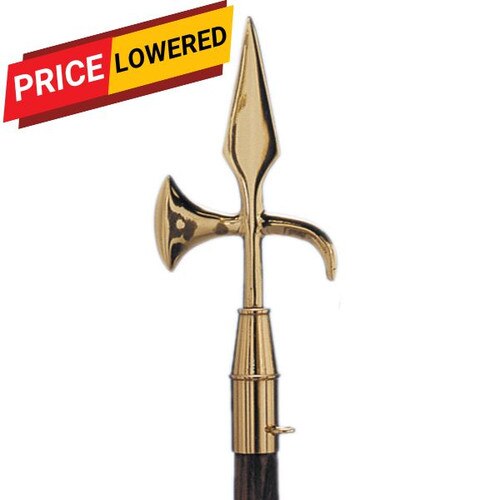 Battalion Lance Flagpole Ornament - 9"
Details
The Battalion Lance flagpole ornament is perfect for a professional classic indoor display. Often used in indoor flag displays in military settings, the Battalion Lance is perfect for adding a touch of color and flair to your indoor flag display or even for your parade flag. The Battalion lances fit all of our indoor flagpoles and features a solid brass construction. Read the description tab at the bottom of the page to learn more about the Battalion Lance flagpole ornament.
The Battalion Lance ornament is constructed using solid brass and features a single-piece finish with an attaching ferrule measuring 9¼". The solid brass is polished and lacquered for a shiny appearance and for long-term protection.
To attach a Battalion Lance ornament to the flagpole, simply slide the ferrule onto the top of the flagpole and finger-tighten the screweye for a secure hold. Then, screw on the flagpole topper to the top end of the ferrule and tighten.
The Battalion Lance flagpole ornaments are not intended for outdoor displays but can be used in long-term indoor displays.