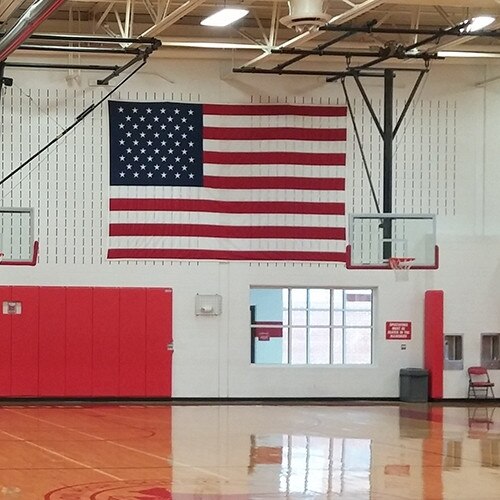 Details
Full Product Details of our Gym or Auditorium U.S. Flags:


Are you looking to add some patriotic flair to your school? Our gym American flags are made of high-quality nylon fabric and make excellent wall decor for your gym or auditorium. Although designed for indoor use, these gym flags will last a long time in both indoor and outdoor settings. Use rope to hang proudly on your wall! Unique features of our gym American flags include:


Reinforced header on all sides

Brass grommets every four feet along the flag's perimeter; ideal for wall hanging or suspended upright display

Made in the U.S.A.

Available in sizes 12'x18', 15'x25', 20'x30', 30'x60'



Reasons to Buy a Gym American Flag from Carrot-Top Flags!
Our American gym flags allow for versatility regarding mounting and attachments. Unlike a traditional American flag, our gym flags feature a reinforced header along all sides. This means it can attach easily to your wall or be suspended in the air using halyard or flag hooks.


While finding the right wall art for a large space can be challenging, our selection of sizes makes it easy. Enhance the look of your school or home gym, arena, or auditorium with a brand-new gym American flag.
Other Ways to Decorate Your School Gym or Classroom
Express your American pride and school spirit with Carrot-Top! Beyond our selection of gym American flags, decorate your school with our custom advertising banners. Our skilled graphic artists will work with you to add your mascot, logo, or any motivational quotes to create custom gym banners students will love. Other custom products allow you to display your school pride on the walls, suspended from the ceiling, set on the ground, or wherever. Order online or fill out our contact us form to start your order.


Beyond our custom products, where you can order unique gym posters and more, Carrot-Top offers other ways to decorate your school. For example, our American classroom flags come in three different sizes and materials to suit your needs. You can also order our American desk flags or indoor U.S. flag sets to give your classroom style and distinction. Carrot-Top has it all!
FAQ — American Gym Flag
Please fill out our contact us form if you have additional questions regarding our American gym flag.

1. Can I use an American Flag Gym for events or ceremonies in my gym?
Absolutely! The American flag for gyms can be a powerful symbol during events, ceremonies, and national holidays celebrated in your gym or auditorium. Just be sure to handle and display it with proper etiquette and respect. When displaying the flag vertically on a wall, be sure the blue field is on the observer's left and the stripes run vertically. Do not let the flag touch the ground.

2. How is the American Flag Gym different from a regular American flag?
The American Flag Gym is tailored to the needs of gym and auditorium spaces. It comes in large sizes with reinforced headers on all four sides of the flag that contain brass grommets every four feet, so that you can display it in multiple ways.
Carrot-Top Flags has over 40 Years in the Flag Industry!
Carrot-Top Industries is a premier provider of American flags and other patriotic products. Customer favorites include the Beacon® Nylon American Flag, heavy-duty Patriarch® Polyester American Flags, and the "don't tread on me" Gadsden flag. For more about our products or questions or concerns, please fill out our contact us form, and one of our Flag Pros will contact you soon!