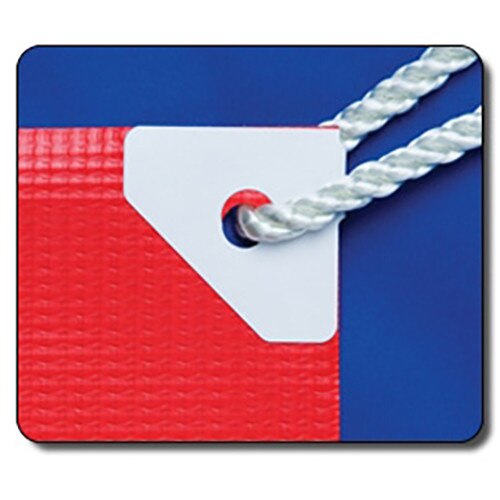 Banner Grommet Tab -Adhesive
Details
The banner grommet tab is a simple way to attach your banner to any surface. These tabs can be placed over the grommet or punched hole in a banner. The banner grommet tab gives you two options for attachments and come in two sizes. The larger tab is for use with banners measuring 6 to 8 in width and the smaller one is for banners measuring 6 or less.
The banner grommet tabs come with an adhesive back so assembly and installation is simple. For more about these tabs see the description below.
LIMITED QUANTITY AVAILABLE
The banner grommet tabs are a quick and easy way to attach you banner to a rope or banner hook. These banner tabs are made of high strength composite film. The tabs are great for outdoor use and degrade very slowly allowing for long term displays. The larger tab measure 2.1"x5.5" and smaller banner grommet tabs measure 1.5"x3.1". The grommet tabs are white in color and perfect for banners with white backgrounds where the tab cannot be seen when applied.
Carrot-Top offers a wide range of banners ideal for these tabs. We also offer custom banners on to which a graphic of your choice can be placed. All our custom products are perfect to increase brand awareness or to add a personal touch to and event or celebration. We also carry street banners, these banner can be attached to any street light or street pole. See all of our advertising products to find more items similar to banners. Also see our signature American flags the Beacon® and Patriarch® American flags. For more about our products Please fill out our contact us form and one of our Customer Care Representatives will be happy to get in touch with you!