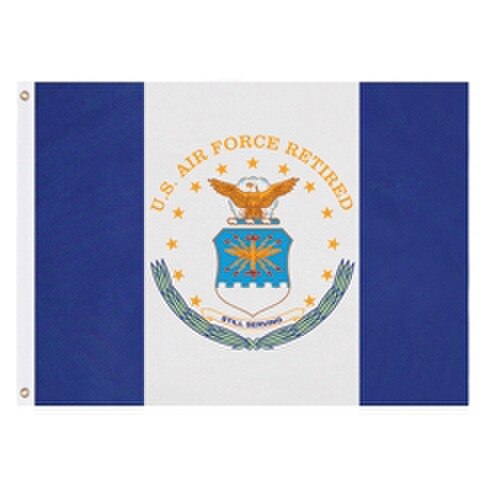 3' X 4' Air Force Retired Flag
Details
The Air Force Retired flag is ideal for a veteran of the U.S Air Force. The retired USAF flag features three vertical stripes; the two on the extremities of the flag are colored blue, while the larger center stripe is white. The crest in the center of the flag closely resembles the crest on the official U.S Air Force flag. Proudly Made in the U.S.A.
The Air Force retired flags are made of 100% nylon and feature a header and grommets on the left side for attachment. For more information and specifications about the Air Force retired flag see the description tab below.
The Air Force Retired flag features the three blue and white vertical stripes and a centered crest. The crest featured on the flag has the shield and eagle seen on the USAF official flag as well. Beneath the shield is a flowing ribbon that reads "STILL SERVING". The crest also features 13 yellow stars that encircle the shield. The words "U.S AIRFORCE RETIRED" are printed outside the circle of stars in a curved line contouring the stars.
Our Air Force retired flags are made of durable high-quality nylon, ideal for use in areas with relatively low wind speeds and wet weather. Nylon flags are light and water resistant, allowing them to fly proudly in a light breeze and dry quickly when wet. The flags measure 3'x4'.
See our official U.S Air Force flags and our other military and memorial products, including a host of Veterans products. Carrot-Top's range of American flags is unmatched and features the highest quality fabrics and finishes. Browse through our high end custom products as well. All custom products are digitally printed, silk screened or appliqued to guarantee a high-quality image. For further information, please fill out our contact us form, and one of our Flag Pros will be in touch with you!