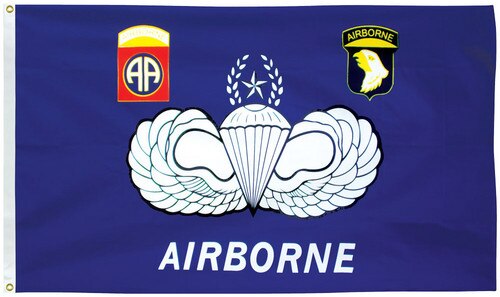 Airborne Flag - 3X5' Endura
Details
Our Airborne flag is the perfect way for anyone to show their pride and support for any family members or friends who may be a member of the 82nd Airborne and 101st Airborne Divisions. Displaying an eye-catching blue background, our Airborne flag features the insignias of both Airborne Divisions as well as the Parachutist Badge in the center. Finished with a canvas heading and brass grommets, this imported flag is sure to display your continued support. This flag is imported. To order this flag, please enter your desired quantity and click "ADD TO CART". For more information, please see our description tab below.
Our Airborne flag will arrive complete with a durable canvas heading and brass grommets which will allow for ease of attachment to your in-ground flagpole or Outrigger pole display. The multi-colored design will certainly catch the attention of passersby.
Encompassing the insignias of both the 82nd Airborne and 101st Airborne Divisions, this flag design will be perfect for those who have family or friends who are active-duty members or veterans of either division. With the bold blue background, the 82nd Airborne and 101st Airborne Division insignias are displayed at the top left and right above the Parachutist badge. Crisp, white lettering reading "AIRBORNE" below the insignias identify the divisions and their area of expertise.
In addition to the United States Army Airborne flag, Carrot-Top Industries offers many variations of the United States Military Branch flags, Support our Troops items and Veterans products. Proudly made in America, our United States flags are available in our Beacon® Nylon and Patriarch® Polyester. Available in outdoor and indoor styles, we are sure to have the American flag display you are looking for. Also available are the 82nd Airborne flag and the Camo Airborne Flag (links will be provided once created).