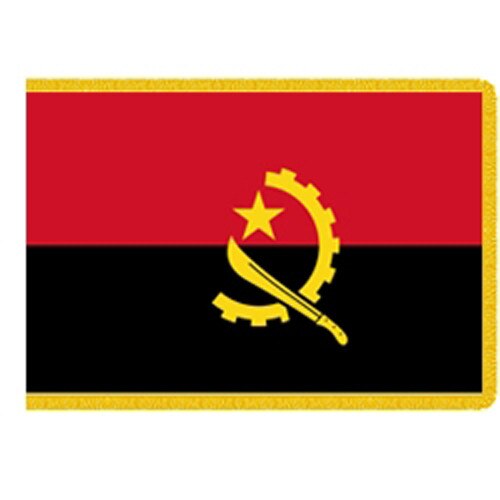 Details
Our indoor Angola flags are made of long lasting nylon material and a quality finish. The flags feature the official design of the Angola flag that was adopted in 1975 and comes complete with a rich gold fringe that runs around the three outer sides of the flag. The flags measure 3'x5'.
Our indoor Angola flags are perfect for both indoor flag displays and for use in parades. For more details see the description tab below. To order an Angola flag enter the quantity of flags you would like to order and click on the "Add to cart" button below.
Our indoor Angola flags are made of solid nylon material and are built for long term indoor displays. These flags come finished with a contrasting yellow fringe made of rayon material. The fringe adds vibrancy to the Angola flag and commands attention. The inner most side of the flag (hoist end) is completed with a lined pole sleeve making the flag compatible with one of our indoor or parade flag poles.
The indoor Angola flag is a replica of the Angola flag as dictated by the Angolan Authorities. The flags feature a red and black background in which the red represent blood shed by Angolans during colonial oppression and the civil war that took place in Angola. The black is a symbol to represent the continent of Africa. In the center of the flag is a machete, a part of a cog wheel and a five pointed star printed in yellow. The machete is a sign of agriculture, the cog a symbol for industry and the star is a mark that stands for solidarity of Angolan people.
See our outdoor Angola flags, indoor flag pole accessories and all of our flag pole options to mix and match items to create a flag display set that is ideal for your location and needs. Carrot-Top industries is a leading supplier of high-quality American flags, custom products, military and memorial items and several different property and event management products. Browse through our extensive range of products to fulfill every need. please fill out our contact us form today for more details about our products or for help choosing the right product.