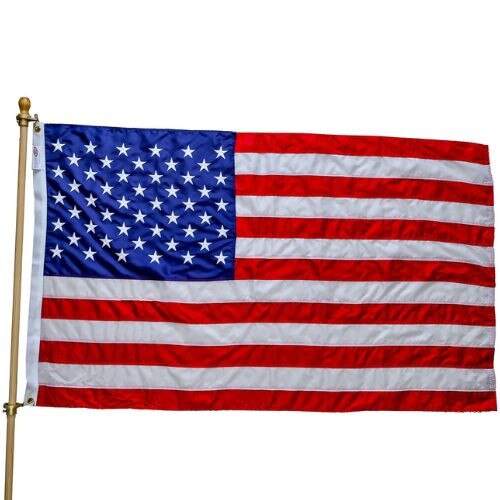 Annin Signature U.S. Flag
Details
These flags are currently not available and production will start back in July. We do still offer our Beacon Nylon Flags. Available in two sizes, the Annin Signature U.S. Flag is an excellent choice for outdoor display. Its innovative Solarmax® Nylon fabric is lightweight, yet sturdy enough for months of use.
UV- and weather-resistant 100% DuPont Solarmax® 200-denier nylon
Embroidered stars are 25% larger than standard flags
Hand-sewn stripes with four rows of lock stitching on fly end to resist fraying
White canvas header and brass grommets

Proudly Made in U.S.A.
Why Buy an Annin Signature U.S. Flag?
For settings that usually see light to moderate winds, the Annin Signature U.S. Flag is a perfect fit. This nylon American flag is available in 3' x 5' and 4' x 6' sizes for outdoor use. Its 200-denier fabric is sturdy enough for months of use yet light enough to flutter and fly in a light breeze.
Its innovative DuPont Solarmax® nylon fabric resists fading even after months of exposure to the sun's rays, and its tough white canvas header is fitted with brass grommets for attachment via snaphooks.
Questions? Please fill out our contact us form, and one of our Flag Pros will reach out to you!