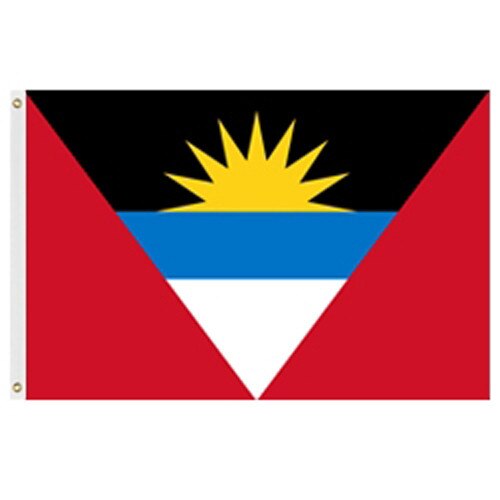 Outdoor Antigua And Barbuda Flags
Details
Outdoor Antigua and Barbuda flags are made with the highest quality materials and showcase and symbols and colors that reflect the nation's history and hopes for the future. These beautiful flags are fashioned using strong, thickly woven nylon that dries quickly. Outdoor flags are available in four sizes. Choose the best flag for your flagpole or select one of Carrot-Top's many flagpoles and flag sets.
Outdoor Antigua and Barbuda flags are crafted with super strong nylon tailored to hold up against the destructive elements of wind, rain and sun. These attractive flags are the perfect way to celebrate your heritage, pride or allegiance and they are available in four sizes: 2'x3', 3'x5', 4'x6' and 5'x8'. Our Carrot-Top's flags are designed with exquisite lock stitching to prolong use and extend the flag's longevity. These outdoor Antigua and Barbuda flags are finished with a strong canvas header and brass grommets for easy attachment to your flagpole. Outdoor Antigua and Barbuda flags make great gifts to family and friends and are affordably priced to share with others.
Carrot –Top offers a wide assortment of custom items, patriotic products and flags. Be sure to browse our collection of these superiorly crafted flags, which includes international flags, historical flags , novelty flags, religious flags and sports flags. Our American flags are some of the finest flags obtainable and include our exclusive fabrics the Patriarch® Polyester American flag and the Beacon® Nylon American flag. For further details, please fill out our contact us form and one of our Customer Care Representatives will be in touch with you.