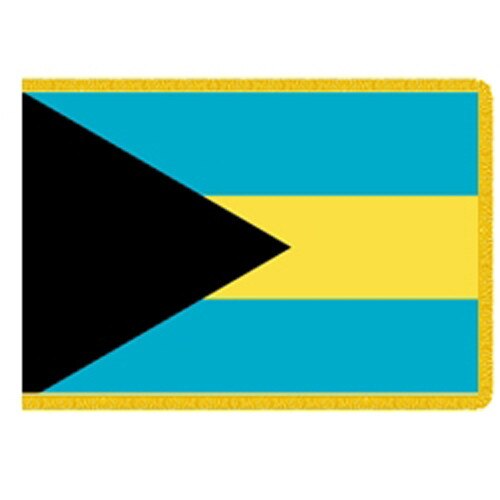 Details
Our Indoor Bahamas flags are authentic symbols of the people and pride of Bahamas. These finely crafted flags are made with the finest materials and showcase the bold colors that reflect the nation's determination to be great. Our Indoor Bahamas flags are perfect to display in any location and also make excellent parade flags. For more information about our Indoor Bahamas flags see the description tab below.
Indoor Bahamas flags are fashioned with the highest standards and superior materials. These flags are trimmed with plush gold fringe around three sides and feature a fully lined pole sleeve. Flags are crafted with beautifully woven nylon and create dynamic indoor and parade displays. These flags are 3'x5' and are perfect for your home, office, school, church or business.
Carrot-Top offers a broad range of items that includes flags of all types and sizes. Our American flags include our exclusive Patriarch® Polyester American flag and our Beacon® Nylon American flag. Carrot-Top also features State and city flags , novelty flags, historical flags , religious flags, and sports flags . Shop our collection of flagpoles and flag sets for the best option to display your Indoor Bahamas flags. Browse our custom products section for items that will advertise or promote business or organization. Our graphic artists are skilled in replicating and designing your artwork and images banners, and tents. For more details about Indoor Bahamas flags or any Carrot-Top product or service please fill out our contact us form today!