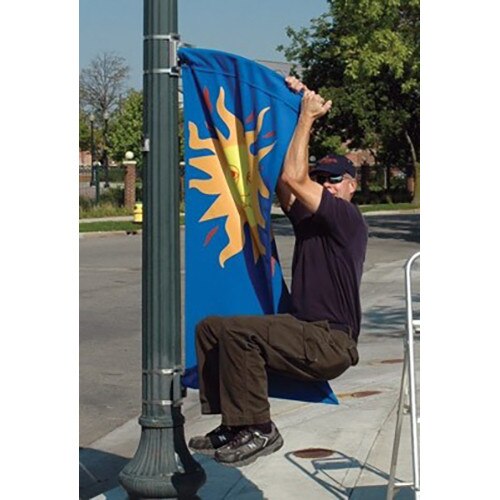 Bannerflex® Airow™ Street Banner Hardware
Details
Get ready for a holiday or special event with BannerFlex® Airow™ brackets for your street banners. The BannerFlex® Airow™ pole banner bracket system makes it easy to install street banners on light or utility poles.
Choose from 25" or 31" sizes for two different banner widths
Available with Black or Silver finish
Ideal for standard to large diameter power or light poles
Works equally well on a round or square pole without additional hardware
Adapters are available for a square pole 5" or larger on each side
Banner brackets rated to withstand winds up to 70 mph
Airow rods are extremely flexible and can withstand winds up to 100 mph
Not recommended for use with banners with wind slits, which can put more stress on hardware

Made in U.S.A.
Why Buy BannerFlex® Airow™ Street Banner Hardware?
Street banners are the perfect way to freshen up a college campus or downtown area, and the BannerFlex® Airow™ is a great solution for a pole banner bracket system. The BannerFlex® Airow™ set includes: 7 1/4" L x 3" W aluminum D3 brackets in black or silver, 3/4" diameter gray fiberglass UV coated airow rods and 5/8" W x 40" L black or silver screw gear bands. A 5/32" Allen wrench will be needed to loosen or tighten the screws on the brackets. Special adapters are available to hang flower pots or fly a flag at an angle. When banners are not being displayed, the main casting can remain attached to the pole with the rod(s) removed. Please fill out our contact us form and one of our Customer Care Representatives will be happy to get in touch with you!