How To Prove Your U.S. Flag Is American Made
Published on
June 12, 2019 at 1:40:00 PM PDT June 12, 2019 at 1:40:00 PM PDTth, June 12, 2019 at 1:40:00 PM PDT
Flag Day is June 14. To celebrate the American flag's birthday (242 years old!), we wanted to share a checklist on how to ensure your U.S. flag is American made. In recent months, the Flag Manufacturers Association of America (FMAA) discovered several companies were selling American flags they falsely claimed were "Made in the U.S.A." This is concerning to the FMAA since its members are "dedicated to educating the public on the quality of flags manufactured in the United States and raising awareness of the importance of American flags "Made in the U.S.A.", as well as the proper use of our nation's greatest symbol."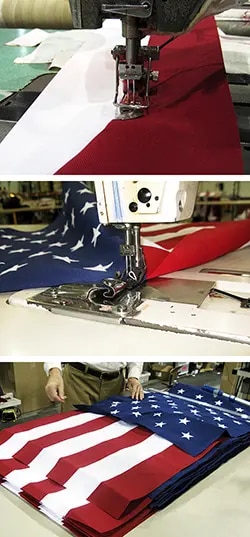 The FMAA was established in 2003 to work with United States flag manufacturers and suppliers to ensure they are producing and selling authentic American flags while also educating consumers on how to confirm their flags are "Made in the U.S.A." According to the FMAA, "1 in 10 American flags sold in the United States are NOT 100% made in the U.S.A.!" The FMAA website assists customers by providing a Certified Retailer Membership List to help them choose where to buy their guaranteed American-made flags.
The FMAA also provides a list of their Flag Certification Program Requirements to help customers confirm they are buying a "Made in the U.S.A." flag from a certified FMAA member. Manufacturers of flags are eligible to use the FMAA Certification Seal under the following circumstances:
The flag manufacturer is a member of good standing in the FMAA, and if in question, good standing will be determined by the FMAA Board of Directors.
The participant produced the flags to be certified entirely in the United States.
"Produced" will mean that, to the best knowledge of the participant, all of the following steps take place in the United States:
The yarn was woven into fabric
The fabric was dyed, printed or bleached
The fabric was cut, assembled, sewn, finished and packaged
All processes were completed in United States facilities
Flags meet all current United States Customs and FTC labeling requirements.
Flag manufacturers will require suppliers to supply country of origin certificates for the raw materials they supply, and will maintain a file of these certificates.
All certified flags must carry the official FMAA certification seal.
A challenge to these claims can be made by any manufacturing member anonymously through FMAA on first challenge, and all subsequent challenges must identify the challenging member.
Admitted or proven deviation from these standards will require removal of any inaccurate or misleading labeling or packaging from the products for the manufacturer to remain a member.
Refusal to remove labeling will result in expulsion and forfeiture of dues.
Only members and non-member participants can use the certification seal.
All participants commit to adhering to, supporting, promoting and investing in the use and proliferation of the FMAA seal to the extent they are capable.
Seal wording to read exactly as follows:

Flag 100% Made in the U.S.A.
Flag Manufacturers Association of America
<<FMAA Certified Manufacturer Name>>
Wayne, PA 19087
Here at Carrot-Top Industries, we feel it is important to educate our customers on the differences between an American-made and a foreign-made U.S. flag. We offer the best quality and selection of Made in America U.S. flags for sale. Our exclusive line of U.S. flags – the Beacon® nylon and Patriarch® polyester brands – feature an Industry's Best 6-Month Flag Guarantee against defects, fading, or tearing. We also offer a great selection of American flags for sale from other top brands in the industry including Annin, Valley Forge, and Eder Flag.
Replace your worn and weathered U.S. flags and flagpoles today to celebrate our flag's 242nd birthday and show your American pride on Flag Day, Independence Day, and every other day of the year!