Beacon® Flag Testimonial And An Important Reminder From A Veteran
Published on
October 3, 2018 at 10:02:00 PM PDT October 3, 2018 at 10:02:00 PM PDTrd, October 3, 2018 at 10:02:00 PM PDT
At Carrot-Top, we put customer service first, which means we are constantly talking to customers and listening to their feedback on our products. We deal with so many interesting and inspiring people from across the United States, and we often hear stories that touch our hearts and make us stand a little taller as proud providers of U.S. flags. Once in a while, we will get a special testimonial that stands out from the rest. We recently received one in the form of a handwritten note (We don't get many of those anymore!) that made us pause and ponder the importance of the U.S. flags we sell, and the profound meaning they hold for our customers.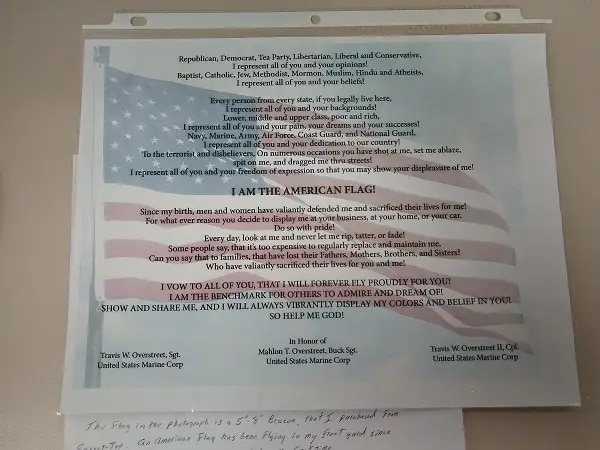 One of our customers, Retired USMC Sgt. Travis Overstreet Sr. took a photo of his Beacon® U.S. flag and photocopied it with an important message about the meaning of the U.S. flag. It reads,
Republican, Democrat, Tea Party, Libertarian, Liberal and Conservative, I represent all of you and your opinions! Baptist, Catholic, Jew, Methodist, Mormon, Muslim, Hindu, and Atheists, I represent all of you and your beliefs!
Every person from every state, if you legally live here, I represent all of you and your backgrounds! Lower, middle and upper class, poor and rich, I represent all of you and your pain, your dreams, and your successes!
Navy, Marine, Army, Air Force, Coast Guard, and National Guard, I represent all of you and your dedication to our country! To the terrorists and disbelievers, On numerous occasions you have shot at me, set me ablaze, spit on me and dragged me through the streets! I represent all of you and your freedom of expression so that you may show your displeasure of me!
I AM THE AMERICAN FLAG
Since my birth, men and women have valiantly defended me and sacrificed their lives for me! For whatever reason, you decide to display me at your business, at your home, or your car. Do so with pride!
Every day, look at me and never let me rip, tatter, or fade!
Some people say that it's too expensive to regularly replace and maintain me. Can you say that to families who have lost their fathers, mothers, brothers, and sisters? Who have valiantly sacrificed their lives for you and me!
I VOW TO ALL OF YOU, THAT I WILL FOREVER FLY PROUDLY FOR YOU! I AM THE BENCHMARK FOR OTHERS TO ADMIRE AND DREAM OF! SHOW AND SHARE ME, AND I WILL ALWAYS VIBRANTLY DISPLAY MY COLORS AND BELIEF IN YOU, SO HELP ME GOD!
Mr. Overstreet also included a handwritten note in with the flag message,
"The flag in the photograph is a 5' x 8' Beacon® that I purchased from Carrot-Top. An American flag has been flying in my front yard since July 1968 when I returned from Vietnam the first time. I am Semper Fi to the flag and what it stands for. Please feel free to make copies of the photo and pass them out to anyone who needs or wants one. P.S. Y'all make a great product!"
Thank you for the reminder and testimonial, Mr. Overstreet, but most of all, thank you for your service!
---
---
About the Author
Jenny Jolly | jjolly@carrot-top.com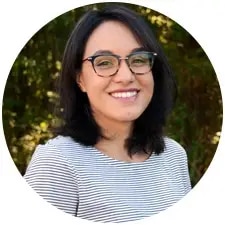 Carrot-Top Staff Writer, Jenny Jolly, has been blogging and writing for businesses since 2008. A self-proclaimed "Army brat", Jolly grew up on military bases overseas before settling back in her family's home state of North Carolina. "Growing up a bi-cultural American has taught me to appreciate the diversity of our great nation. Having experienced other cultures firsthand has also given me valuable perspective on what it means to be American—to love your country, to value your rights and freedoms, and to fully embrace the ideal of the American Dream," she said. It is her honor to serve Carrot-Top Industries in the shared goal of providing American-made U.S. flags and patriotic, special event, and custom-made products to military institutions, service member families, government agencies, schools, businesses, and individuals across the United States.