California State Flag History and Design
Published on
February 3, 2021 at 2:38:00 AM PST February 3, 2021 at 2:38:00 AM PSTrd, February 3, 2021 at 2:38:00 AM PST
The History Behind the California Flag Design
Nicknamed "The Golden State" because of its native golden poppies and the "gold rush" that began within its borders in 1848, California was the 31st state to be admitted to the Union by an act of Congress on September 9, 1850. In September 2021, the state of California will celebrate its 171st birthday. The upcoming California birthday celebration is also an ideal time to learn more about the history and the design of the state flag.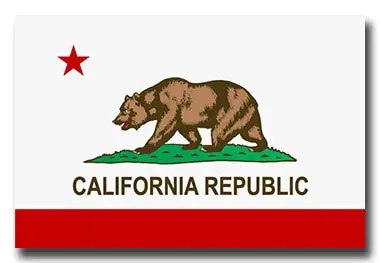 The California state flag design was adopted by the California state legislature in 1911. However, the flag design originated 65 years earlier when a small group of American settlers in Sonoma, California, rose up against the Mexican forces who controlled the area. On June 14, 1846, the American settlers proclaimed California as a Republic that was independent from Mexico. As a part of the uprising, William Todd, the nephew of President Abraham Lincoln, quickly designed the California Republic's "Bear Flag," which featured:
A solid white background representing purity
A grizzly bear representing strength and independence above the words "California Republic"
A horizontal red bar representing courage below the "California Republic" text
A single, five-pointed red star near the top left of the flag representing sovereignty. The star is a creative nod to the single, five-pointed star featured on the state flag of Texas, a state that was also once recognized as a sovereign nation
On July 9, 1846, the Americans who led the Sonoma uprising learned that the United States was already at war with Mexico. After hearing the news, they replaced the "Bear Flag" with the American flag as a way of visually demonstrating their solidarity with the American troops.
When the "Bear Flag" was later adopted as the California state flag in 1911, it retained all of the flag's original features, and its design has remained unchanged until the present date.
California Outdoor Flag Options
Today, you can celebrate The Golden State's birthday by displaying your own California state flag. Carrot-Top Industries' outdoor California flags are made in the U.S.A. and come in two of Carrot-Top's exclusive fabric brands: Patriarch® polyester and Beacon® nylon. These flags are expertly crafted with unsurpassed quality by the most experienced flag makers in the industry. Our flags feature fade-resistant colors, durable fabric and fray-resistant stitching. Both the Patriarch® polyester and the Beacon® nylon outdoor California flags are digitally printed with a single reverse finish. Backed by the flag industry's best six-month guarantee, we are committed to your satisfaction. Our guarantee covers any defects, fading or tearing, starting on the date of purchase.
Our Patriarch® Polyester California flags are built with a super-strong, two-ply polyester that has the texture and the feel of cotton. These flags are best for coastal zone locations and areas that frequently experience severe winds. Our Patriarch® Polyester California flags are available in a variety of sizes, from 3' x 5' to as large as 6' x 10'. Our Beacon® Nylon California flags are tailored with tough, durable, lightweight nylon that dries quickly and waves beautifully in the air. These flags are designed for low and moderate-wind areas and are available in sizes from 12" x 18" to 8' x 12'.
California outdoor flags, indoor flags, flag sets, flag banners, mini flags and lapel pins are available for order online. To determine the best outdoor flag material for your location and flagpole, please call 800-628-3524 to speak with a Customer Care Professional. You can also submit any questions about your flag order by email or schedule a convenient time for a consultation through Contact Our Team. We offer fast shipping on all of our in-stock products.
Online References: State Symbols U.S.A. and California State Library.
Email us at marketing@carrot-top.com to share your comments or questions about this blog. You may also email us if you have a topic you would like us to cover or are interested in submitting an article as a guest writer.