Celebrating 40 Years In Business While Looking Towards Our Future
Published on
December 16, 2019 at 9:02:00 PM PST December 16, 2019 at 9:02:00 PM PSTth, December 16, 2019 at 9:02:00 PM PST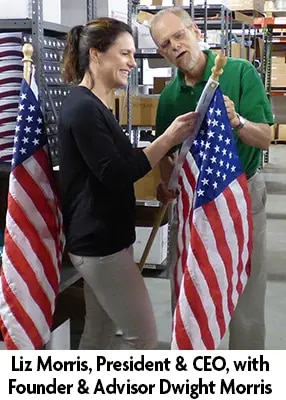 Carrot-Top Founder, Dwight Morris stepped into the flag industry in 1980 with a passion to build a company dedicated to serving its customers' needs while providing the highest quality products. He established Carrot-Top as a mail-order company based out of his family's home in Oak Park, Illinois. For the first seven years, Dwight grew the company's reputation and filled every position needed to see it flourish.
In 1987, the Morris family relocated to North Carolina to set up their growing business in Hillsborough and within a year hired its first employee who later retired in 2014 after 25 years of service. The company has continued to thrive due to the hard work, values, and passion shared by one man and all of his employees. "The values that Carrot-Top was founded on are the reasons why our customers are so loyal to our company," said Dwight. "We have always been about putting the customers' needs above our bottom line. We are not about selling. We are about serving the customer which is a win-win for both of us."
In August 2019, the company was transitioned to the next generation when Dwight's daughter, Liz Morris, became our President and CEO. Dwight continues on at Carrot-Top as Advisor to the CEO. Sonya Parker, Call Center and Human Resources Manager said, "We provide quality products and exceptional service to gain our customers' trust and loyalty. Under Liz's direction, we will continue to add value, keep our promises, and work hard to nurture our customer relationships. Liz is passionate about customer satisfaction and it shows in both her words and actions. I'm proud to work at a company whose Owner/CEO says to do whatever it takes to EARN our customer's repeat business."
Marketing Director Jay Bernotas said, "As we enter into our 40th year of business, I feel there are exciting things happening at Carrot-Top Industries. The company is looking to enhance our focus on customer relationships and improve our brand. I think with the new direction our CEO Liz Morris is giving us, we are really setting the company up to be successful for years to come."
For 40 years, Carrot-Top Industries has been a trusted industry leader providing institutions and businesses with patriotic and customized solutions while bringing communities together. Carrot-Top has gained expertise in the industry through listening to what its customers' unique needs are and providing them with specific solutions. "Looking towards our future, Carrot-Top will continue to focus on solution-based products that bring people together while operating collaboratively so we can consistently meet or exceed our goals," said Liz Morris, CEO and President. "Without the strong foundation and values established by my father, growth and ongoing success would not be attainable."
"In 2020, I'm encouraging every Carrot-Top employee to embody our new company motto "Go MAD – Go Make ADifference," said Liz Morris. "It's about doing right by the customer and being engaging, authentic, and having integrity while working with our customers to solve problems." Leading Carrot-Top Industries towards the future, her primary goal is to provide solutions through customer support by focusing on five core pillars:
EXPERTISE: Serving customers like you by sharing our industry expertise
FLEXIBILITY: Making it easy for you to do business with us
INNOVATIVE: Providing expansive product solutions for you
INVESTMENT: Identifying products to suit your needs and budget
DEDICATION: Helping you make a difference in your communities with product solutions
Carrot-Top Industries plans to continue providing organizations across America with high-quality products that help display a message or pride through patriotic and customized solutions. Carrot-Top knows that 40 years in business would not have happened without all of its loyal customers. Our Customer Care Professionals believe in making a difference by engaging with their customers, sharing their expertise, and empowering customers to make the best product choices for their needs. We believe in doing right by the customer, and we look forward to serving as your trusted partner in the industry for many years to come.