A New Door to an Old World
Published on
September 15, 2015 at 3:51:00 PM PDT September 15, 2015 at 3:51:00 PM PDTth, September 15, 2015 at 3:51:00 PM PDT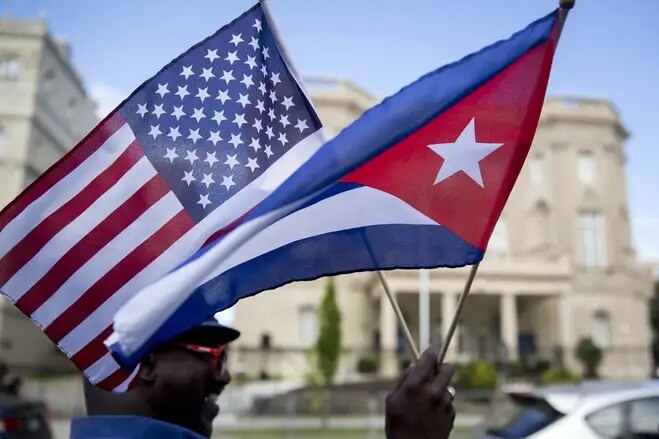 July 1, 2015 and July 20, 2015 mark both the end and beginning of the relationship between the US and Cuba. For the first time in half a century, an American flag is flying on Cuban soil. More than 50 years after President John Kennedy and Cuban President Fidel Castro drew solid lines of separation in our hemisphere dividing the two nations; the walls of mistrust are starting to come down. Cuba and the US reopened their embassies in Washington, D.C. and Havana last month. Much like the fall of the Berlin Wall, the opening of the embassies signals a new era of optimism for better relations, good will and hopefully commercial opportunities. Cuba, beleaguered and pressured by US and international sanctions for decades, will hopefully see much needed economic growth and expansion. The nation boasts one of the highest literacy rates in the world, but many note that potential human rights violations and widespread poverty have mired the life of Cubans for decades. One report asserts that many Cubans earn as little as $20 a month. The curtain of communism has fueled such intense animosity between our nations that citizens in both countries are still in awe that Cold War disputes and hostilities are starting to thaw.
The loosening of ties with Cuba could create tremendous opportunity. Of course, there is the chance to travel and tour one of the world's most beautiful islands or perhaps (now) legally light up (taste) one of Cuba's world famous cigars. But there is also an even greater potential for business ventures and economic partnerships that would benefit Cubans and Americans alike. If you've ever visited a Caribbean nation like the Bahamas, Grenada, Dominican Republic, Trinidad, or Haiti there is a unique feeling of joy that overcomes you the moment you arrive (or land). Initially, it seems to be the applause of passengers unofficially thanking the pilot or captain for a safe landing, but then one realizes it's a feeling of hope and shared joy that change is still possible despite huge gaps in income and the lack of access to higher education and social services. American citizens in U. S. territories like Puerto Rico and the US Virgin Islands undoubtedly share this hopeful optimism for their Caribbean cousins. Perhaps it's the crystal blue and green waters or simply the beautiful smiles of hopeful people, but many in the Caribbean survive on the optimism that life will soon change for the better. (Perhaps for many Cubans it finally will.)
The opening of the Cuban embassy is heavy with political implications which may or may not affect the lives of individual Americans. To our large population of Cuban Americans it is perhaps a giant sigh of relief though there is still much work to be done in repairing the relationship between the nations. For some Americans, the re-established relationship with Cuba is a golden opportunity for economic investment, joint ventures and corporate partnerships. One only has to look at movies like Havana starring Robert Redford to see how truly vibrant and dynamic Cuba's capital city can be. The Cuba of the past was definitely a place where Americans spent money. Hopefully, present day Cuba will ultimately prove to be a place where Americans may also make money. Much like South Africa after apartheid, Cuba's opening windows of commerce should awaken the spirit of American ingenuity and entrepreneurship.
Americans make things happen, both home and abroad. Though we may not support the policies of current President Raul Castro or his brother Fidel, we know that American innovation can be both profitable and socially uplifting. As Secretary of State John Kerry raised the American flag at the Cuban embassy in Havana on July 1, he lifted a veil of mistrust, ill well and missed opportunity. Cuba may not immediately become one of our favored nations but it is too close and too beautiful a nation to continue to lock out. So as the walls begin to come down and the doors begin to open, let's step inside and reconnect with a Caribbean paradise and enjoy the treasures (of a rekindling friendship).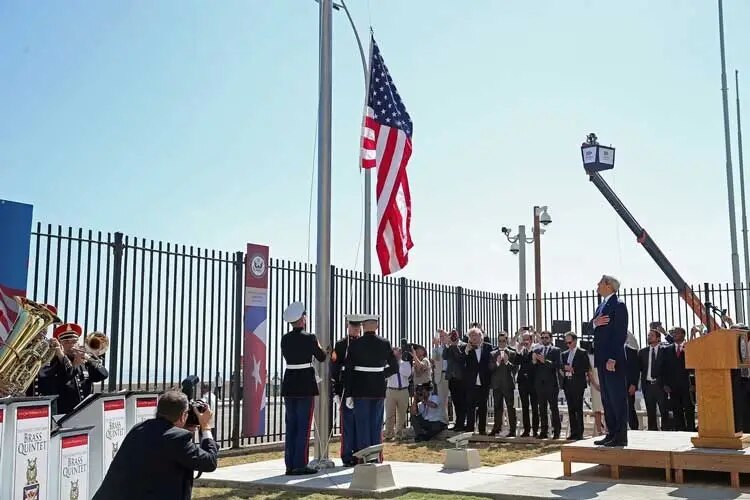 Images via The Wall Street Journal.