Dolphin Landings Charter Boat Center
Published on
February 11, 2014 at 2:18:00 PM PST February 11, 2014 at 2:18:00 PM PSTth, February 11, 2014 at 2:18:00 PM PST
The History of Dolphin Landings Charter Board Center
Inspired by the love he felt for St. Pete Beach, Florida and his need to answer the call of the sea, Captain Dan Peretz established the Dolphin Landings Charter Boat Center in 1972. What started with only a few guests on Dan's sailboat has become a full service charter boat center that provides nautical adventures to every client.
His current fleet of eight includes a variety of sailing, salt water fishing and power cruising boats all guided by well-seasoned captains. Public trips include sunset sails, bottlenose dolphin watches and island adventures with snorkeling and shelling. Captain Dan also offers private charter yachts for weddings and other special events.
Founding the Soothe Our Souls (SOS) Program
As the business has grown, Captain Dan has had the opportunity to expand his services and in 2012 he founded Soothe Our Souls (SOS). SOS is a volunteer organization that provides free sailing trips for community members facing serious health challenges. This organization was inspired after the passing of a dear friend and fellow sailor of Captain Dan's. Prior to his passing, Dan provided free sailing trips for his friend and his friend's family as a form a therapy on Sunday mornings. Dan could see the peace these trips provided for all involved and so to honor his friend's memory he continues to offer sick and grieving people the opportunity to benefit from time on the water.
How Carrot-Top Helped His Business Grow With Custom, American-made Flags
Since 2001, Carrot-Top has proudly provided products to promote Dolphin Landings growing business. Honoring several international countries where their reputation is well known, most of the fleet's ships fly the American flag as well as the flags of Canada, the United Kingdom, Italy, Germany and the Bahamas. We have also provided several replacement flag pole parts to keep their flags flying proudly at the dock.
In the fall of 2013, Captain Dan came to us looking for a way to brand and promote his business. With years of experience working with businesses of all shapes and sizes, we knew that our 2'x3' digital custom flags were the best solution for Dan. He ordered two, one featuring their business logo while the other custom flag was designed for the SOS program.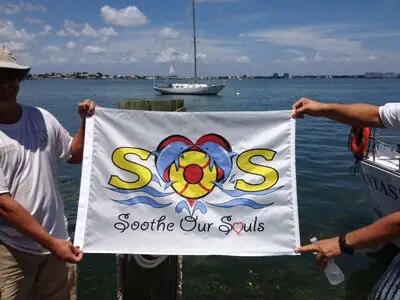 We've been thrilled to work with Dan and watch his business grow. We're particularly proud to work with someone who understands the value of giving back and helping those who are struggling with a difficult time in their life.
We're just hoping Captain Dan will take us out on the ocean next time we're in Florida!
"Thank you for the acknowledgement as well as always supplying us with great flags to dress up our vessels" -Captain Dan Peretz
Every business and organization that we work with has a unique story behind it. As a company, we feel our purpose is to continue to provide products that illustrate their inspiration and services to their local communities. Call us today to start your journey. One of our experienced customer service representatives will help you find the perfect solutions and products for your business such as our custom floor mats, economical banners and custom decals to promote your business.