Eastern Alamance HS
Published on
April 3, 2013 at 3:05:00 PM PDT April 3, 2013 at 3:05:00 PM PDTrd, April 3, 2013 at 3:05:00 PM PDT
Sammy Ballard, second year Assistant Varsity Softball coach for Eastern Alamance High School, knew where to go when he wanted to put the finishing touches on their new softball field. At the end of January, Sammy stopped by our Hillsborough, NC headquarters and was greeted by none other than our own Tabetha, featured in our March Employee Spotlight!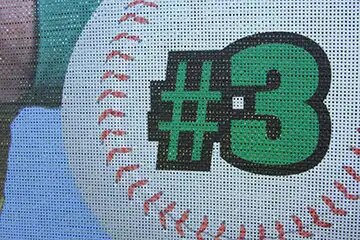 Sammy was looking for a custom flag and had a desire to honor the six seniors on this year's team. Tabetha and Rebecca, one of our experienced graphic artists, assessed his needs and suggested our 8oz Vinyl Mesh Banners to line the fence at the back of the field. These custom banners have a unique construction that allows air flow through the material to reduce wind resistance and feature detailed full-color digital imprinting. Feeling confident in our guidance, Sammy decided on three custom Digital Nylon Flags, one 8oz Vinyl Mesh Banners for each of the six seniors and one 8oz Vinyl Mesh Banner to honor their two 2012 Allstate players.
After returning to Eastern Alamance and receiving our quote, Randy Ballard, Eastern Alamance's Varsity Baseball coach, decided his nine seniors had to be honored in the same way and we sent another quote out to him. Within the week both quotes were approved and Sammy dropped by with a CD of player photos. Sammy requested the designs be reminiscent of a baseball card so our graphic artists got to work converting their logo and adding a blue sky background to the photos. Layouts were emailed to Sammy for approval and the details were quickly finalized with plenty of time to have the banners hung by the beginning of the season.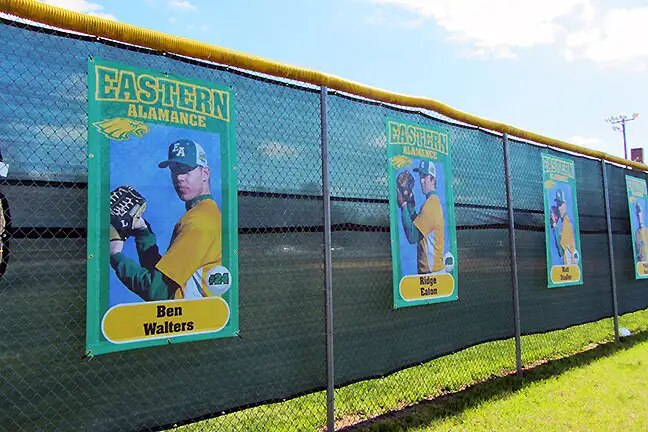 When we caught up with Sammy at the field for practice to get some photos of the new banners last week we were able to congratulate the Eagles Varsity Softball team on their 7-3 this season so far! We are cheering for you Eagles!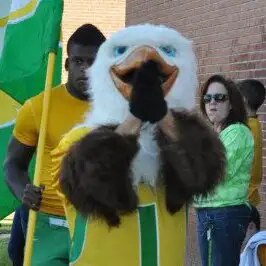 While everyone here at Carrot-Top Industries strives to provide outstanding guidance to the perfect product, it's the spirit, pride and honor in our customers that really shines through. Sammy, like so many of the great customers we help, is full of pride and enthusiasm for his school. He has been Eastern Alamance's #1 fan for twelve years as their Eagles mascot! Not only does he know how to work a crowd, but he's teaching his players that honor is earned when you work hard for what you want. Each senior will be given their banner at the end of the season to remind them of the lessons they learned as they continue their journeys. We're honored to have worked with Sammy and everyone at Eastern Alamance High School on this project. And to think, Sammy stopped in looking for just one flag!
At Carrot-Top Industries, we specialize in helping schools, colleges and universities make their campus and athletic facilities look great. Whether you're looking for something as simple as new custom mats for the entrance or a project like Sammy's involving multiple custom banners and custom flags, we're here to help. Give us a call (800.628.3524), or stop by if you're local, and a knowledgeable and friendly customer service rep will be happy to assist you. We're happy to provide quotes and even send you sample fabric so you know exactly what you're getting before you order.