Announcing Our Fall 2020 Beacon® Scholarship For Rural America Winners!
Published on
August 14, 2020 at 10:52:00 PM PDT August 14, 2020 at 10:52:00 PM PDTth, August 14, 2020 at 10:52:00 PM PDT
The Fall 2020 Beacon® Scholarship for Rural America had the largest number of scholarship applicants since Carrot-Top Industries introduced the scholarship in 2018. We received applications from 25 out of the 50 U.S. states including first-time states such as: Arizona, Colorado, Connecticut, Georgia, Hawaii, Illinois, Maine, Mississippi, New York, Oklahoma, South Carolina and West Virginia.
The Beacon® Scholarship supports the American dream that every U.S. citizen should have an equal opportunity to achieve success and prosperity through diligence, perseverance and initiative, even if there are limitations due to the cost of education. The Fall 2020 Beacon® Scholarship awarded two students $1,000 each. Graduating high school seniors, current college students and adult learners with a GPA of 3.0 or higher who planned to enroll in an accredited college program applied. Applicants were required to reside in a rural area, meet low-income criteria and provide an essay about how they showed patriotism through their community involvement.
It was important to Carrot-Top Industries that the winners met all of the requirements mentioned above while also showing they have clear goals for their future education and community involvement. Each applicant had their own unique way of showing patriotism through their community activities, but they were all aware that their individual acts of kindness and selflessness were for the greater good of their community as well as their nation.
"We are excited to help rural, low-income students meet their educational goals, so they can make a positive contribution to America's future. The Beacon® Scholarship celebrates the American dream of individuality, equal opportunity, hard work and determination," said Liz Morris, Carrot-Top Industries CEO and President.
Meet The Winners!
Without further delay, we are pleased to announce the two winners of our Fall 2020 Beacon® Scholarship for Rural America – Mary Pangburn of Sandusky, Michigan, and Caele Manley of Hoolehua, Hawaii. Both Mary and Caele are shining examples of patriotism and the belief in the American dream that continues to thrive in rural communities today.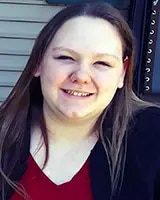 Meet Mary Pangburn
Mary Pangburn is from Sandusky, a small rural town in the thumb of Michigan. "We are the county seat and the epitome of small-town values and patriotic pride," said Pangburn. "Our courthouse displays over 400 flags and 300 name plaques in recognition of our hometown heroes, family and friends who have served, both living and passed, on every flag display holiday." Sandusky, located close to the Lake Huron shoreline, is a great place for outdoor recreation including camping, fishing, boating and golf.
Pangburn is a sophomore at St. Clair County Community College. "After getting my degree in Allied Health, I plan to enlist in the U.S. Army in the A-Med program and become a doctor serving our country," said Pangburn. She comes from a military family and community, many of whom were drafted. "They have all inspired in me a sense of pride and value in our country, values and freedoms," said Pangburn.
"Nothing in life is given or guaranteed. A good work ethic will take you far in this life. My family has instilled in me to be humble, honest and to try to be a part of the effort to make a better future for all."
According to Pangburn, life has never been easy, but her mom and grandparents' support has helped her pull through, and the future is bright. "I am lucky to be a part of so many veteran family and friends that have given so much," said Pangburn. "My immediate family is very small, but my veteran friends that have become family are many. Thank you to everyone who inspires me every day to be someone that will bring pride to our community just like they all have."
Here are excerpts from Manley's essay on showing patriotism through community involvement:
"I come from a military family. We come together for those that we are so thankful to for currently serving, those that have served and for those soldiers that have gone forever home. Since the time that I could walk, I have joined my family in the placement of flags for our lost heroes' graves as a small token of gratitude for those that are owed so much. This is a tradition that I will pass on to my own family someday and instill in them the recognition."
"I decided to start a project mirroring the "Wreaths Across America". We are so rural and out of the way, that we would never be considered for a spot on their path, but our fallen soldiers are just as deserving. I started using donated material such as willow whips and formed wreaths. I will begin right in our hometown of Sandusky, Michigan. In November, as the winter weather begins to come, I along with my family, will begin to remove the flags in the cemeteries so that they do not tatter and replace each one with a wreath adorned with a red, white and blue ribbon. I have completed enough for the first cemetery and am slowly making more for each and every one."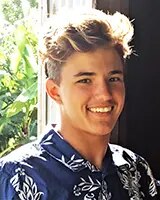 Meet Caele Manley
Caele Manley's hometown of Hoolehua, Hawaii, is located on the small island of Molokai, in the middle of the Hawaiian chain. "I have come to understand that 'the spirit of Aloha' is far more than just a tourist slogan," said Manley. "In our small community, living Aloha (i.e., love) is actually a way of life where one is encouraged to constantly think about meeting the needs of others while pursuing personal goals and aspiring to greater ambitions."
Places to enjoy on Molokai is an enchanting place that includes surfing waves at Kula Koi Beach, swimming in the tide pools of Make Horse Beach and exploring the Kamakou Forest Preserve to discover breath-taking scenery while collecting wild berries for a homemade pie. East End valleys provide hiking trails to spectacular waterfalls, fishing off the coast of blacksand beaches and discovery of ancient Hawaiian rock walls that tell the story of Molokai people from long ago. The community cares for one another as ohana (i.e., family). A resounding theme of the island is captured on a banner located just outside the entrance of our only airport: "Slow down, it's Molokai!"
Manley plans to attend Wheaton College in Wheaton, Illinois, as a junior student-athlete this upcoming semester. He is pursuing a bachelor's degree in Communications with an emphasis on interpersonal communication while participating on Wheaton College's wrestling team. "I want to learn to use my words with greater excellence to encourage, to edify and to educate others," said Manley. "It is my intention upon graduation to return to Hawaii to give back just a little of what was given to me. I hope to be of service, not only to my immediate community, but also to my state, my country, my world and my God."
Manley is motivated to pursue his goals after discovering that through giving of his time and energy as a volunteer in his church, school and community, he receives great blessings. "My volunteer opportunities have resulted in developing my character, building my self-confidence, cultivating compassion and fostering a thankful heart," said Manley. "I hope to inspire others by being an example of selflessness and sacrifice." One of Manley's favorite quotes is by Mahatma Gandhi which says, "The best way to find yourself is to lose yourself in the service of others."
Here are excerpts from Manley's essay on showing patriotism through community involvement:
"I have served within my church in many roles so that my community may be enhanced. My college career, specifically as a student-athlete, has afforded me yet more opportunities to influence my teammates, my classmates and even my coaches to push harder and strive for more while thinking of others and seeking to promote success for all."
"Patriotism is not limited to service in the armed forces, but it is actually a way of life that every citizen should not only enjoy through experience but openly express appreciation for and work hard to protect. I will continue to show my patriotism and my love for this country by loving and serving the people of this free land, ever praying for God to bless America!"
Both Pangburn and Manley appreciate how much the Beacon® Scholarship will help them with their education. Pangburn said, "Thank you to Carrot-Top Industries for being the patriotic and giving company that you are and for selecting me for this opportunity. The scholarship is very appreciated to help me with expenses as I pursue my Allied Health degree before enlisting in the U.S. Army A-Med Program." Manley shares Pangburn's sentiment:
"Thanks so much for investing in my education at Wheaton College. Your financial support is greatly appreciated as it will be helping me to not only fulfill my personal goals but become the person God created me to be."
If you know of any deserving students who would qualify for our Beacon® Scholarship for Rural America, have them visit /beacon-scholarship to apply.
Upcoming application deadlines for the 2020-2021 Beacon® Scholarship for Rural America are:
Spring 2021 Scholarship: October 31, 2020
Fall 2021 Scholarships: June 30, 2021