Do you know who created the first American flag? Part II
Published on
March 5, 2013 at 2:03:00 PM PST March 5, 2013 at 2:03:00 PM PSTth, March 5, 2013 at 2:03:00 PM PST
We continue to dig deeper into the truth of this historic mystery. This week we focus on the second American historical figure that played a key role in the creation of the first American flag. As we look at Francis Hopkinson's story you may begin to question the legend of Betsy Ross.
The Legend of Francis Hopkinson
Looking back at the life of Francis Hopkinson, there is much evidence to suggest that he was the true creator. Being the first to do something is nothing new to Francis Hopkinson, see in his early life he was part of being the first attending class of the University of Pennsylvania where he graduated in 1757. A few years later, he became an attorney, and two years after that he traveled to London to study. Francis would return in 1768, and that same year he would marry Ann Borden. Throughout their marriage they would have five children, including his son Joseph Hopkinson.
In 1776, just a year after becoming the Continental Congress representative of New Jersey, Francis and 55 others sign the Declaration of Independence. Several months later, Francis left Congress to join the Navy Broad at Philadelphia. In 1789, President George Washington nominated Francis Hopkinson to be the first judge of the Untied States District Court for the District of Pennsylvania. Sadly, only a few years after becoming a judge, Francis Hopkinson died at age 53 of an epileptic seizure.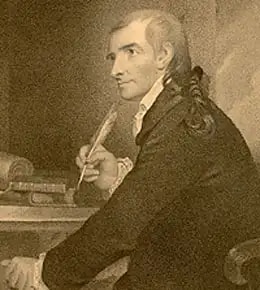 Francis Hopkinson was not only known for his political life, he also made numerous cultural contributions as an amateur songwriter and poet. In addition he is credited as the first natural born American composer to commit a composition to paper. Francis also assisted as part of the second committee in designing the Great Seal of the United States.
The one thing that has been most questioned on Francis Hopkinson's resume is the design of the original flag. Francis Hopkinson's design is more similar to the modern American flag than Betsy Ross' design. The Betsy Ross flag has 5 pointed stars arranged in a circular shape; where as Hopkinson's flag has 6 pointed stars in a staggered pattern.
In 1780, Hopkinson sent a letter and an itemized bill to Congress that included a 9 pound charge for the flag of the United States. Ultimately the Treasury Board turned down the request, concluding that many others were consulted on the design and he could not claim full credit.
In conclusion
The simple question of who created the first American flag will continue to be debated by historians, but if you ask me, I tend to think that perhaps Francis Hopkinson had sketched out the design for George Washington. Washington, who knew Betsy Ross, then brought the design to her to sew together, with several of her own alterations made in the process.