Flagpole Purchase And Installation Testimonial
Published on
May 31, 2016 at 11:45:00 PM PDT May 31, 2016 at 11:45:00 PM PDTst, May 31, 2016 at 11:45:00 PM PDT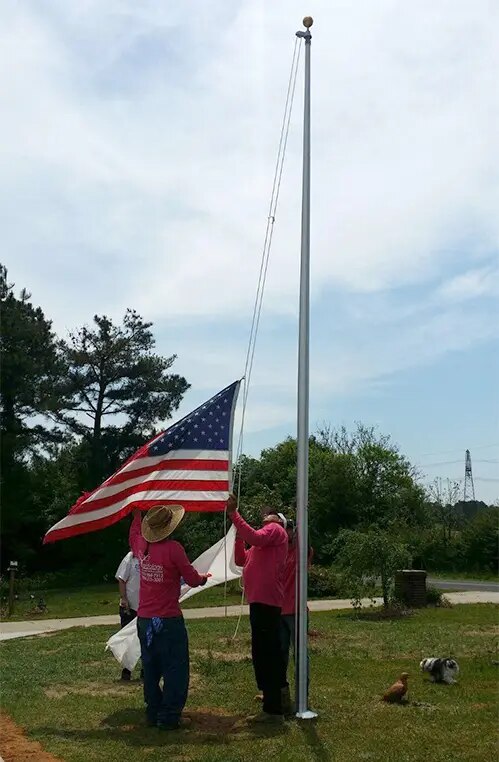 There's no better way to honor a hero's sacrifice than with a proud flag and flagpole display. This is exactly what our customer, Vicki Lee Hemingway, did with assistance from our expert customer service representative, Milly Calderon, to honor her husband and his ultimate sacrifice to our Nation and service to the US Army.
From first to last, Carrot-Top is with you when buying and installing a new flagpole. Selecting the right flagpole for your display depends on several different variables. Our customer service representatives are experts at working the equation to find you the ideal flagpole with appropriate height, build and will even tell you what size flags to fly on it for the best possible display. For flagpole installation we will connect you with one of our expert partners from our national network of flagpole installers.
Read the quote below to know more about the experience of buying and having your flagpole installed with Carrot-Top Industries.
"I want to thank from my heart, for helping me purchase the Carrot-Top commercial flagpole in the memory of my husband. Every time I salute to the flag I have memory of you also. I had a great experience working with you to purchase the flagpole. Please tell the installers that came to put up the flagpole that I am 100% happy with their performance and the end result. They did an outstanding job and they were very professional."
-Vicki Lee Hemingway
Browse through our impressive selection of outdoor flagpoles. We also carry a multitude of different flagpole accessories to add to your display as well as flags of all shapes and sizes for long-term displays. For more details speak to one of our product experts on (800)628-3524.