Flying The American Flag At Half-Staff: What You Need To Know
Published on
October 11, 2021 at 4:04:41 PM PDT October 11, 2021 at 4:04:41 PM PDTth, October 11, 2021 at 4:04:41 PM PDT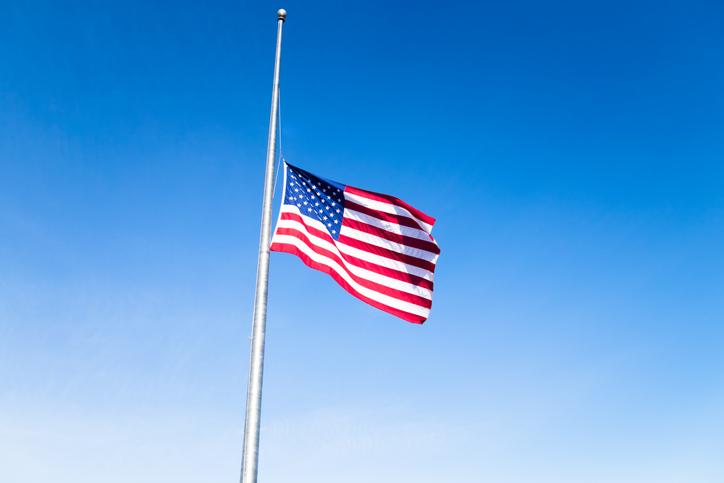 When most of us picture an American flag waving in the breeze, it's at full-staff, rippling proudly at the peak of the flagpole. Unfortunately, some somber situations call for flying the flag at half-staff. Flying the flag at half-staff is one of the most recognizable symbols of communal mourning and reflects our shared grief as Americans following a tragedy.
Because it's such a meaningful gesture, there is protocol to follow as to when and how to do it. And since that protocol is not always what you might expect, we wanted to make sure you were comfortable with the key details. At Carrot-Top, nobody knows more about flags than we do.
Tip: Half-staff and half-mast refer to the same thing, but half-mast is naval-specific terminology.
When were the half-staff rules created?
March 1, 1954. President Eisenhower issued a proclamation that reconciled all the conflicting policies that were previously vying for supremacy. Other tweaks from Congress have ensued, but note that these are both federal sources of authority. While states and local governments typically adhere to these rules, they are officially directed at federal flag displays, including all federal buildings, grounds, and naval vessels.
Who can declare that the flag should be flown at half-staff?
On the national level, the President makes the declaration that we are in mourning. On the state level, a governor can make the declaration for their state. Below the governor, the mayor does not have the authority to make an official half-staff proclamation for their city. This is because flying the flag at half-staff is usually an honor reserved for higher-level figures with more of a wide-ranging impact.
Why is the flag flown at half-staff?
Most often, this is done as a symbol of shared respect and to mark the passing of a government official or a communal hero. It can also be done to commemorate a day of remembrance, such as Memorial Day. But be aware that Memorial Day is not just a day of mourning, and has specific rules for how to fly the flag properly.
What are the rules for Memorial Day?
Memorial Day is about both mourning and honoring our military heroes. That's why the flag is flown at half-staff only from sunrise to mid-day. The flag is then hoisted to the peak of the flagpole until sunset.
Tip: Your flag should always be lowered at sunset unless it is illuminated by artificial lighting.
Can a flag be flown at half-staff as a local sign of mourning and respect?
There is no rule against flying the flag at half-staff to honor a local figure or mark a local special day. Private businesses and citizens may choose to do so. A municipal government may choose to fly the flag at half-staff, but there can be no official edict below the state level.
However, while there is no specific rule prohibiting the practice, some discourage it by anyone below the state level. They contend that this best reflects the original purpose and intent of the gesture.
Tip: There are no civil or criminal penalties for dishonoring a flag or violating Flag Code.
How does a flag get lowered to half-staff?
It should first be hoisted to the peak and then lowered to half-staff. When it is time to lower the flag, the flag should once again be hoisted to the peak before being lowered from the flagpole completely.
Tip: As no flag can be flown above the American flag, state and other flags must be lowered to half-staff, too.
How long should a lowered flag remain at half-staff?
When the flag is lowered to mark the death of a current or former President, the flag will remain lowered for 30 days. For figures such as a current Vice President, the Chief Justice of the Supreme Court, and the Speaker of the House, the flag remains lowered for 10 days. For the next tier of public figures, such as a former Vice President, a Cabinet member, other justices of the Supreme Court, and other key Congressional figures, the flag will stay at half-staff until internment.
Tip: The President can order the flag to be flown at half-staff in mourning for other officials not mentioned above, and even foreign dignitaries. The President can also proclaim that the flag should be at half-staff following some kind of tragic event.
What days does the flag typically fly at half-staff?
From sunrise to sunset on Peace Officers Memorial Day, Patriot Day (9/11), and Pearl Harbor Remembrance Day. On Memorial Day, the flag is at half-staff until noon. Note that Veterans Day is not a day where the flag is flown at half-staff.
Tip: Every year, in conjunction with observance of the National Fallen Firefighters Memorial Service, the flag is lowered to half-staff on federal grounds. While the date of the Service shifts, the half-staff honor must be conducted annually in association with it.
What do I do with my home-mounted pole?
For flags on a short staff or other flags that cannot be lowered, an alternative to half-staff is available. By long tradition, you can add a black ribbon above your flag as a symbol of mourning. The ribbon should be easily visible but note that you don't want to attach the ribbon to the flag itself.
Amplifying a Meaningful Display
As you can see, there are many procedures and protocols to follow when it comes to displaying the flag at half-staff. While there is some disagreement on whether flag-lowering should be initiated below the state level, we can all agree that the gesture should be carefully plotted to maximize its import and effect.
In the same vein, only quality flags should be used in any patriotic display. A high-quality flag can demonstrate a high level of respect. A flag from high-grade materials may even be mandatory under Flag Code in some situations, like flying an all-weather flag in the wind. If you need help picking the proper flag or have questions on how to fly it, you can always reach us at 800-628-3524.
References:
www.legion.org/flag/questions-answers/91124/when-should-flag-be-half-staff
www.chamberofcommerce.org/usflag/flagetiquette.html
www.firehero.org/events/memorial-weekend/attending-memorial-weekend/ways-honor-fallen/lower-american-flag/
www.va.gov/opa/publications/celebrate/halfstaff.pdf
The Carrot-Top Promise
We started at the end, now let's get back to the beginning -- the beautiful American flag in our opening sentence. Nobody sells higher quality flags than Carrot-Top. All of our American flags are made in America, and your satisfaction is 100% guaranteed.
If you are in need of patriotic products for your institution, business or home, Carrot-Top Industries welcomes the opportunity to meet your patriotic décor needs. Please contact our Customer Care Professionals at 800-628-3524, shop online or send us your product needs either by email or through our Contact Our Team online form. We offer fast shipping on all of our in-stock products.
Email us at marketing@carrot-top.com to share your comments or questions about this blog. You may also email us if you have a topic you would like us to cover or are interested in submitting an article as a guest writer.