Great Graduation Memories Come From Proper Planning
Published on
March 9, 2020 at 8:26:00 PM PDT March 9, 2020 at 8:26:00 PM PDTth, March 9, 2020 at 8:26:00 PM PDT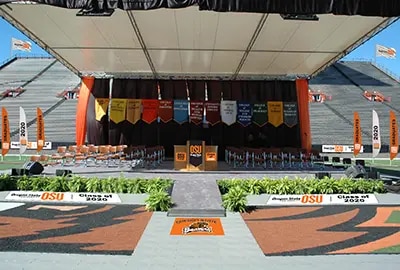 We all remember when we graduated. Whether it is high school or college graduation memories, we recall a sense of accomplishment, surrounded by friends and family, celebrating a major life milestone reached. The sights and sounds of the day are never forgotten, and we take them into the future with us and fondly reminisce about our graduation experience. As high schools and colleges across the country prepare for upcoming graduation ceremonies, it is time to start planning what tasks need to be completed and what graduation décor needs to be refreshed or ordered. Use our graduation ceremony checklist below and make a once-in-a-lifetime impression that will stay with the graduates and their loved ones for years to come!
Graduation Ceremony Checklist
Choose and reserve a facility for the graduation ceremony
Request faculty participation in commencement activities
Coordinate with your city so they can prepare for extra visitors and traffic expected on graduation day (crowd control and safety efforts, beautify city with street banners and flags, provide additional directional and lodging information, etc.)
Determine if students are needed to assist with the graduation ceremony (on stage for the ceremony or in the crowd to hand out programs, help people to seats, set up/clean-up of seats, tables, decorations)
Have working Lectern Podiums and PA Systems for the ceremony
Confirm A/V equipment works
Prepare and review special visual presentations (ex: slide shows, videos, etc.)
Organize and prepare special awards and certificates
Order or print out diplomas, check spelling of names and put in alphabetical order
Order refreshments for the ceremony
Confirm graduates have their gown, cap and tassel
Order honor cords and confirm which graduates will receive them
Create graduation program and proof that all names are spelled correctly
Create faculty nametags
Schedule graduation practice to ensure graduates know what order to stand in and how the ceremony will proceed
Confirm the ceremony location is set up and all decorations are in place such as:
a. A backdrop for the ceremony stage
b. U.S. Flags, State Flags, City Flags, School Flags, Flag Stands and Flagpoles
d. Podium Banners and Decals
Make sure you have enough seats for graduates, faculty and graduate friends and family
Create a check-in system for graduates and their family and friends with:
c. Street Banners (decorate your lightpoles with your school logo/slogan or to direct traffic or identify buildings to help visitors know where to go)
Confirm housekeeping has cleaned the ceremony facility and bathrooms are well stocked with supplies
Review parking plan for faculty, graduates and visitors to determine if directional signs are needed
Ensure Trash Cans and Entrance Mats are available to keep the graduation facility clean
Confirm there are signs, Crowd Control and Safety Barriers to maintain order and flow of traffic during the event
Your graduation ceremony is a reflection of your school and can ensure school pride is felt throughout the crowd. Take the time to confirm that you have everything you need for the ceremony to run smoothly and help make lasting memories for the graduates and visitors. Customizing your graduation décor on the stage and throughout the facility with your school logo or slogan is a great way to personalize the event. Our Customer Care Professionals have experience planning graduation ceremonies and can assist you in determining what you need for your special day. Reach out to us by phone at 800-628-3524, emailor schedule a convenient time for a graduation ceremony planning consultation through Contact Our Team.