In September, Houston and southeast Texas were devastated by Hurricane Harvey; within days, Hurricane Irma cut a swath through Florida, the Keys and the Virgin Islands. At Carrot-Top, we've watched the impact these storms have had on our fellow American citizens and we're committed to helping.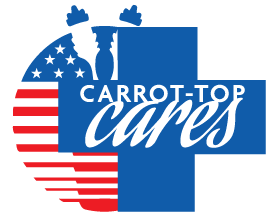 Through the end of October, Carrot-Top will be donating
10% of our earnings, up to $10,000, to support
relief efforts by the American Red Cross.
"I'm someone who cares about human beings," said Carrot-Top CEO Dwight Morris. "In the earlier days of this company, we weren't in a position where we could help in a material way after a disaster like this. But we're a patriotic company, we care about other Americans and when we have the opportunity, we want to give back to the people we have a relationship with. In a larger sense, we have a relationship with everyone, since we're all American citizens – and I can't escape the idea that something of the magnitude of Irma or Harvey could happen anywhere, not just in Texas or Florida."
Carrot-Top is a company with a nationwide presence, and we have a strong sense of commitment to our community – at the local and nationwide level. Enacting the Carrot-Top Cares program is our way of putting that commitment into action.
"This is who we are," said Morris.
Other opportunities to contribute to Harvey and Irma relief:
Americares: Emergency efforts concentrated on health care and medicine
Brother's Brother Foundation: Based in Pittsburgh, already sent over 30 trailer loads of food, medical supplies and clothes
United Way: A reliable, long-standing provider of relief efforts
Habitat for Humanity: Assessing shelter and housing needs
Best Friends Animal Society: Assisting with adoption of homeless pets and reuniting lost pets with their families
Unicef: One of the most respected relief organizations around and is fully engaged in Harvey/Irma relief efforts
Contact your local church, VFW, American Legion and other organizations to find out what and how you can contribute toward relief efforts.