Hillsborough Elementary School
Published on
October 10, 2013 at 3:12:00 PM PDT October 10, 2013 at 3:12:00 PM PDTth, October 10, 2013 at 3:12:00 PM PDT
Atmosphere is everything in a school today! With so many classes focused on testing, how is your school inspiring creativity? For the last year and a half, we have been working with one local elementary school principal to help convert their blank slate into a space where students feel welcome and parents get involved!
Let me introduce Mr. Steven Weber, Principal at Hillsborough Elementary School in North Carolina and the driving force behind Hillsborough Elementary School's creative learning atmosphere. We started working with Mr. Weber in 2012 on his first order that included several items to "put some color on these walls" as he put it. The school has a rich history, which Mr. Weber wanted to embrace while still reinventing the atmosphere. So we got to work!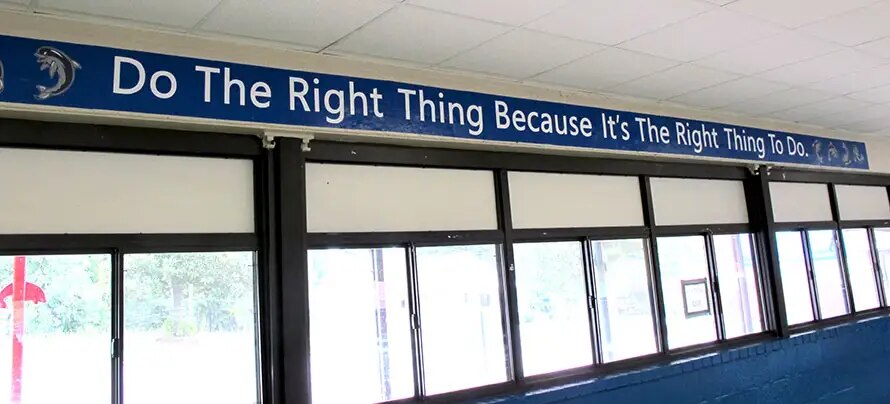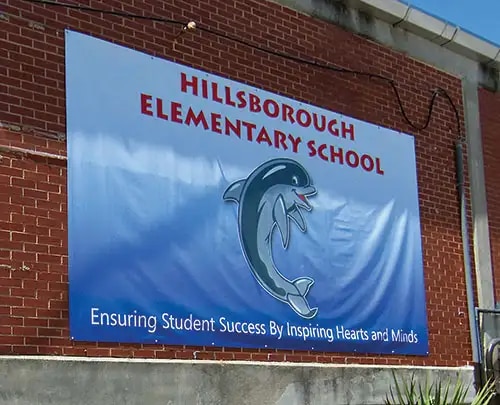 Principal Weber wanted students to adopt a positive attitude when entering the building and to create a welcoming atmosphere for parents and guests. To make an impression, we suggested a 2'x6' banner that he installed outside of the cafeteria. Since we offer a full range of custom products, Principal Weber was able to add a custom flag and several Wall Decals reading "Do the Right Thing" and "It's Kind of Fun to Do the Impossible" which are now installed in the cafeteria!
To complete his order, Principal Weber chose a high impact, 8'x15' banner, installed near the main entrance of the school. Students and parents are excited about the new visuals around school. Principal Weber said that several parents wanted to further improve the school's aesthetics and they accomplished this by volunteering their time to work in the flower beds!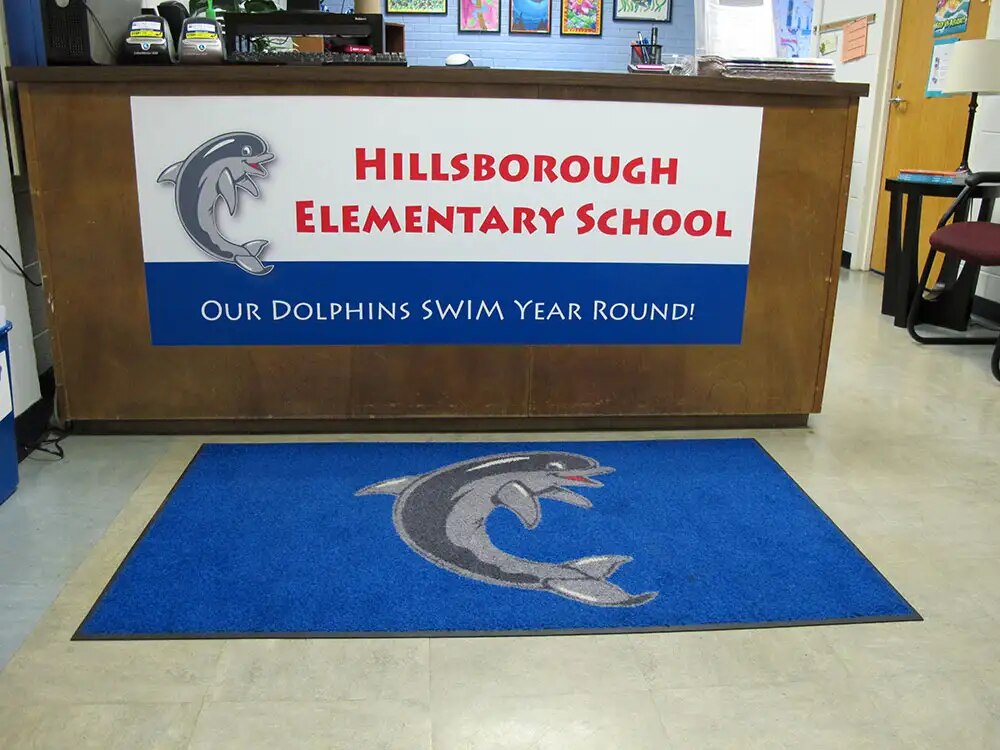 After seeing the positive effect that the enhanced décor brought to Hillsborough Elementary, Principal Weber came back to Carrot-Top early this year looking for ways to enhance the main office. After being satisfied with the banners, decals and flag, Principal Weber had us create a custom entrance mat and another decal, this one for the main desk. Because of our wide selection of custom and stock products, we're able to be a one-stop shop for schools looking to give their campus a makeover. In addition to the custom work we did for Hillsborough Elementary, five of our solid color mats have been installed throughout the school. "Caution Automatic Door" decals have also been added to many doors for added safety.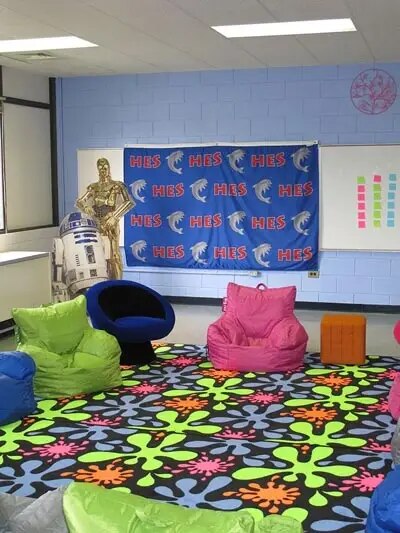 The most exciting project that Principal Weber is working on is his new creative learning classroom. He wants the room to focus on the four C's; Collaboration, Creativity, Communication and Critical thinking. Inside the classroom there are a wall of computers for students to research, learn and blog. In the colorfully decorated room, there are several bean bag chairs for group discussions and to inspire creative thinking. Principal Weber wanted to make sure students have an area to create movies, so he ordered a 5x8' custom digital nylon backdrop and custom table throw from us. He's even added movie character cutouts to use as props! Adding more color to the room, he asked us to replicate the paint splatter pattern from the bright carpets as wall decals. We stopped by the school to install a few decals last week and it looks amazing, and there are still more products in the works!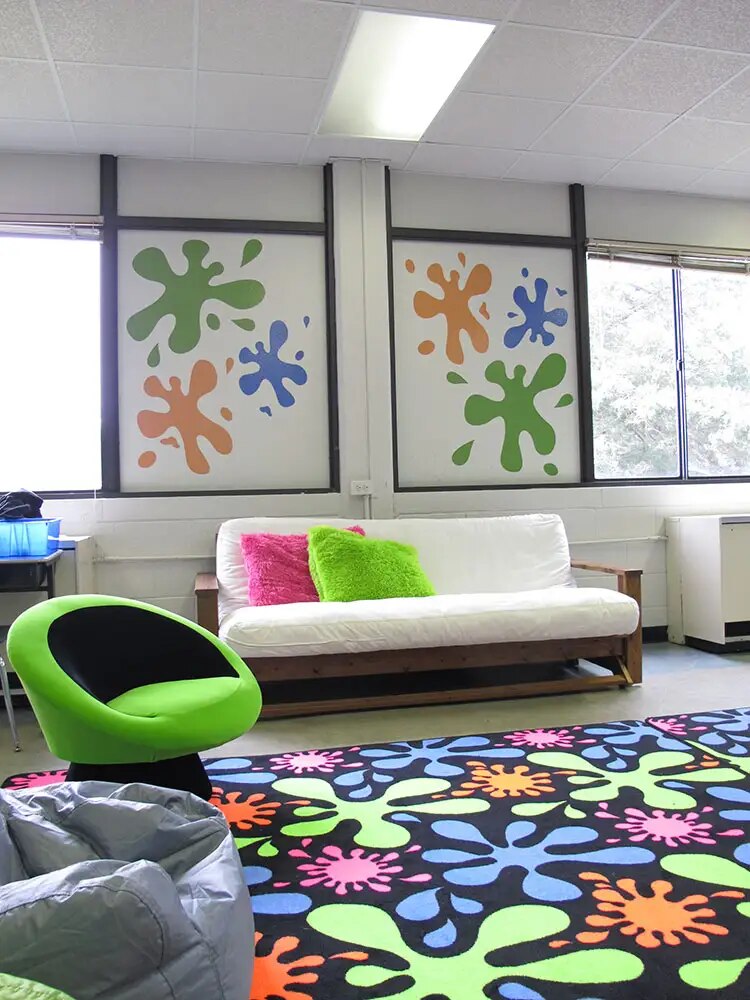 Principal Weber is working hard to challenge his students and try out innovative techniques. He has created an App for parents to use and keep in touch with the school. He is dedicated to his job and blogs frequently on topics including events, PTA information and resources for both parents and students! We look forward to supporting the changes he is making and stepping up to provide products that will challenge and inspire the HES students!
"Carrot-Top provides quality products! The customer service has been exceptional and we know we are getting a professional product when we order from Carrot-Top. They have helped us transform our school from a 1940s high school to a contemporary elementary school. Families love the decals, banners, and new additions to Hillsborough Elementary School." -Principal Weber, Hillsborough Elementary School
If you are interested in adding inspiration to your schools' atmosphere by creating a flag, banner, decal, or mat, our experienced customer service representatives are here to help. We'll work with you every step of the way to make sure you stand out and represent your values. Call us (800.628.3524), or request a custom quote online today!