Kansas Soldiers' Home
Published on
November 22, 2013 at 2:17:00 PM PST November 22, 2013 at 2:17:00 PM PSTnd, November 22, 2013 at 2:17:00 PM PST
Veterans Day may be behind us, but for Carrot-Top Industries and many of our loyal customers, every day is an opportunity to give back and show support for our veterans. We're honored to spotlight one of our amazing customers, the Kansas Soldiers' Home, located at Fort Dodge, Kansas, who has been serving veterans for over 100 years. This incredible organization works directly with the Kansas Commission on Veterans Affairs to support our soldiers in mind, body and spirit.
Established in 1890, the Kansas Soldiers' Home is the only veterans' home within a 200 mile radius of Fort Dodge. The fort was originally built in 1865 as a supply post along the Santa Fe Trail and operated until 1882. After the fort was abandoned, many of the local citizens petitioned to have a soldiers' home established and their efforts were rewarded in 1889 when President Grover Cleveland signed a bill allowing part of the military reservation to be used for their purpose. The first occupants of the new home were American Civil War veterans, from both the Union and Confederate armies, as well as veterans from the Indian and Mexican War.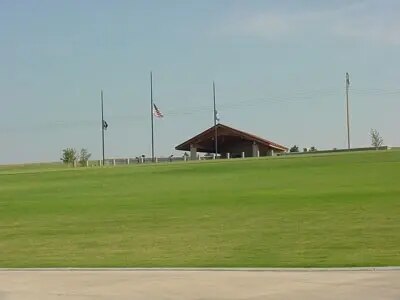 Over the years The Kansas Soldiers' Home has grown tremendously. In 2002 the original Kansas Soldiers' Home Cemetery became full and the new Kansas Veterans' Cemetery was dedicated to make room for expansion. As of 2010 over 500 veterans and their dependents have been laid to rest at the Kansas Soldiers' Home. You can see our American, Kansas and POW/MIA flags flying proudly on three distinct flagpoles at the cemetery ceremony location. Today more than 100 buildings, including a modern nursing home, recreation center, resident and staff fitness rooms, three domiciliary residence halls, 60 cottages and one of several VA Community Based Outpatient Clinics in Kansas, are located at the Fort and dedicated to providing for the 124 residents who call it home.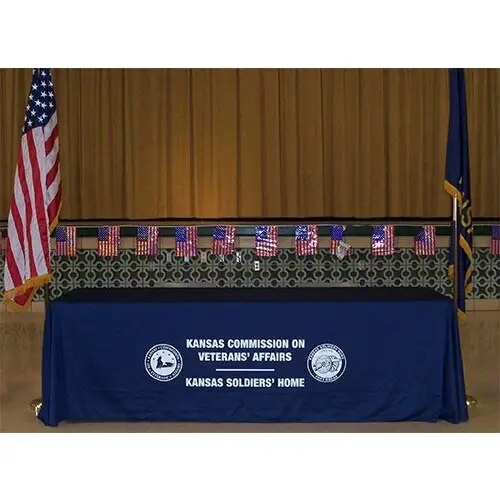 The Kansas Soldiers's Home offers veterans restorative care, physical and occupational therapy, dietary, psychological and social services, nursing, laundry and activities. On several occasions the Kansas Commission and other veterans organizations have held meetings in the main hall at Fort Dodge. We proudly provided a new Custom Table Throw for the Commission's meetings and conferences which always reflect a true patriotic atmosphere.
The Kansas Soldiers' Home relies on community support and receives both monetary and non-monetary donations to provide and expand their services. When we contacted Terry L. Fritz, the interim Superintendent, he told us, "We also just recently recognized a volunteer for putting in over 12,500 volunteer hours helping veterans." That's equivalent to almost a full year and a half of work, what an incredible commitment to make to our veterans! Dedication to this cause is the key to their success and opportunities to volunteer are abundant. If you are interested in showing your support, contact Jeremy Estell, Activities Director, at 620-227-2121, ext. 127.
Carrot-Top understands the importance of community support and recognition, and we strive to partner with organizations that are going the distance to make a difference in our country. We proudly support the Kansas Soldiers' Home by providing them with the highest quality American made products to help them gain much needed attention. In addition, Carrot-Top financially supports the Fisher House Foundation, a national organization geared to provide housing for families of injured military members, with your purchase of Support Our Troops flags. Whether you're replacing your U.S., State or custom organization flag, or looking for a custom banner or table throw to promote your event or cause, we have you covered. Call us at (800)628-3524 to get started making a difference in your community.