Carrot-Top Industries Transition: Keeping It In The Family
Published on
August 1, 2019 at 10:38:00 AM PDT August 1, 2019 at 10:38:00 AM PDTst, August 1, 2019 at 10:38:00 AM PDT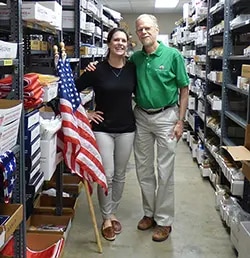 Carrot-Top Industries, Inc., a family-owned B2B direct marketer of patriotic, special event and custom-made products, announced Liz Morris will be appointed Chief Executive Officer (CEO) and President on August 1, 2019. Dwight Morris, Liz's father and Founder of the company, will continue working at the company as an Advisor to the CEO. Moving forward, Dwight's primary goal is to help ensure a seamless transition in leadership as Carrot-Top's 32 employees provide high-quality products and service to commercial businesses and institutions as one of the largest independent flag dealers in America.
Liz Morris, formerly the Vice President of Carrot-Top Industries and a graduate of The University of North Carolina at Chapel Hill, has worked for Carrot-Top for many years. "I've held various positions at the company since I was a teenager which has allowed me to learn about some of the different departments," said Liz Morris. "When I was little, I loved hanging out in the warehouse and picking orders or helping with inventory counts. I've also spent time answering the phone and working as a marketing intern. Later in my career at Carrot-Top, I led the company through several vital technological upgrades including migrating both front-end websites and back-end databases to new systems."
"I'm excited to bring Carrot-Top Industries to the next level of service and innovation," said Liz Morris. "Although I'm firmly committed to modernizing the company's approach to business, I don't want to lose what I feel is the 'soul' of the company. I want to continue building the business that my father spent the last 40 years building, maintaining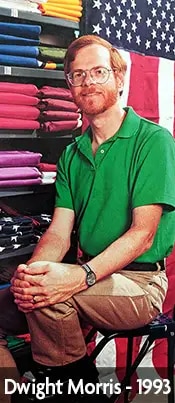 his passion and core values of doing right by our customers, respecting each other, engaging in win-win situations, and having fun. As I transition into CEO, I want to keep the values that make Carrot-Top who we are today and are the reason why customers are so loyal to our company."
According to Dwight Morris, "As Carrot-Top Industries has grown, we found a niche that was untouched in our industry, and we were prosperous. For some time, I have felt that the true definition of success was to build something and for it to continue without me. I am delighted to pass the business to my daughter Liz. We needed to make significant changes in the business, and she is doing just what I envisioned. I am very proud of her as both my successor and my daughter. I couldn't have asked for more."
Dwight Morris is confident in his daughter leading Carrot-Top Industries into the future and Liz Morris is ready for the challenge. "With my experience working in various departments of Carrot-Top, and with Dwight's continued advisory assistance, I know we will succeed," said Liz Morris. "I will keep the culture that makes Carrot-Top the warm, inviting business it has always been while positioning us for increased innovation and profitability."
Carrot-Top's employees are excited to work with Liz to meet new company goals and offer new products and services while continuing on a path of success.
"Our Marketing Team is excited to experience this transition to the next generation of Carrot-Top," said Jay Bernotas, Marketing Director. "We look forward to seeing the new vision and direction Liz will bring to the company as a leader."
Sonya Parker, Call Center and Human Resources Manager said, "We provide quality products and exceptional service to gain our customers' trust and loyalty. Under Liz's direction, we will continue to add value, keep our promises, and work hard to nurture our customer relationships. Liz is passionate about customer satisfaction and it shows in both her words and actions. I'm proud to work at a company whose Owner/CEO says to do whatever it takes to EARN our customer's repeat business."
According to Tabetha Carnahan, E-Commerce Manager, "As Liz prepared for this transition, she implemented open communication and feedback. That creates an atmosphere of hope and optimism for positive changes for our company's future. I am excited to be a part of the new challenges and success we will see under her direction as we continue to build on top of the strong foundation that Dwight created."