Memorial Day 2016: Visalia Public Cemetery
Published on
May 24, 2016 at 9:28:00 PM PDT May 24, 2016 at 9:28:00 PM PDTth, May 24, 2016 at 9:28:00 PM PDT
When Carrot-Top employee Carol McAdoo began her position here as a Customer Care Professional two years ago she never imagined the impact she would have working with our customers. Nor did she fathom how our customers would impact her own life and sense of community. Carrot-Top's clients cover a broad section of military, businesses, schools, cities and towns across our nation and around the world. Carol, like many of our Call Center Experts, quickly began to see that each client has a different story and experience of what being an American is and means. Two years ago, in preparation for Memorial Day 2014, Carol and our entire family here at Carrot-Top, was impacted by such an experience when we learned of the powerful actions of veterans and volunteers in one American community. Working with Visalia Public Cemetery's Avenue of Flags, Carrot-Top and its employees saw how people came together to not only honor our heroes but to also demonstrate how local citizens can participate in an act of honor that resounds across our country and the globe.
Visalia, CA is a city in the San Joaquin Valley of California. The city is the home of the Visalia Avenue of Flags, an annual Memorial Day event where more than 1800 casket flags are flown. Each flag bears the name of the Veteran (and branch of service) whose casket it covered at burial. The flag is then given a number which corresponds with its place along the streets of the cemetery. The Avenue of Flags which arises is a breathtaking tribute to lives and sacrifices of hundreds of soldiers. Veterans coordinate the entire event with the blessing of the Visalia Public Cemetery. Cemeteries like Visalia, and the over 131 National Cemeteries maintained by the U. S. Department of Veterans Affairs, are the final resting for over 3,000,000 veterans who sacrificed and served our nation with honor, courage and pride. Many states also have established state veterans cemeteries.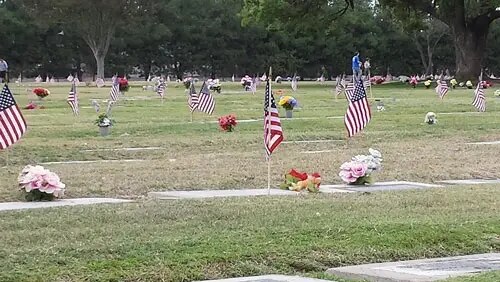 Though it began in the ashes, pain and grief of the Civil War, Memorial Day continues to resonate as a time of patriotic homage to soldiers from every American war and conflict. The 'Day of Remembrance' began as Northerners noted how many of their Southern brothers and sisters revered and honored their sons, fathers, husbands and brothers who had fallen in battle. Many across the nation began to replicate tributes with actions that became known as "Decoration Day". Relatives and loved ones placed cemetery flags on the graves of deceased soldiers as way to commemorate their memory and honor their efforts. (Waterloo, New York is officially credited as the birthplace of Memorial Day.) After World War I, the practice spread to fallen veterans of other wars and Memorial Day officially became a 'Day of Remembrance' to honor of those who have given their lives for America's freedom.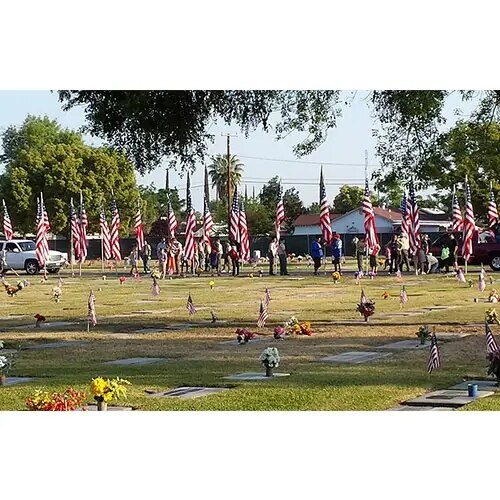 This Saturday morning, as the sun begins to shine, volunteers will gather at Visalia Public Cemetery and begin placing over 3,000 small American Flags on the graves of veterans. On Sunday, flagpoles will be installed along the cemetery's streets and on Monday morning, at 6AM, over 2,060 casket flags will be displayed creating the "Avenue of Flags" or the "Avenue of Remembrance". The image is quite dramatic and certainly stirs patriotic emotion in every American. Each flag represents the once-beating heart and life of an American husband, wife, son, daughter or friend who is no longer with us. Every community across our nation has suffered or witnessed the loss of a soldier- young or old, a man or woman. Memorial Day is one of the moments when we collectively pause and honor those who have gone from us. Monday continues with a Memorial Day Program or Ceremony around 10AM. Similar observances will occur at National Cemeteries across the U.S. The President, members of Congress and the Veterans' Administration urge Americans everywhere to visit our nation's cemeteries and honor fallen veterans each year on Memorial Day. In 2016, as our nation stands divided on so many political and social fronts, it is not ironic that the lessons of the Civil War- the epic battle that divided brothers, families and states- continue to teach us that in death that we are one, united as Americans. This year on Memorial Day, make sure to visit a cemetery, place a flag on a soldier's grave or take time and remember those who have sacrificed and served to make and keep the United States the land of the free.
Carrot-Top is proud to supply American flags of all shapes, sizes and fabrics including mini American flags, grave markers, cemetery flags, and more. Our Beacon® Nylon American flag and our Patriarch® Polyester American flag are two of the finest flags obtainable. Feel free to call (800) 628-3524 for more details about our products or for assistance placing order. Contact the National Cemetery Administration for a listing of 2016 Memorial Day Ceremonies or for a Memorial Day Activity Guide. Click here to find the nearest VA national or state Veterans cemetery. To find out more honoring Visalia Avenue of flags visit Capitalwords.org.